Join a Live Webinar!
Getting Started with Lucid Meetings
Tuesdays at 5PM Eastern / 2PM Pacific
Wednesdays at 1PM Eastern / 10AM Pacific
Click here for details
You've read about how to improve the quality of your meetings (No?! Scan our Twitter account for a heap of suggestions.)
You know you need a goal for each meeting, and ideally an agenda. You know why you should take meeting notes, and how writing down decisions and next steps saves you truckloads of trouble down the road.
No more wishy washy wandering discussions for you! You're ready to start driving and tracking useful results. You're ready to...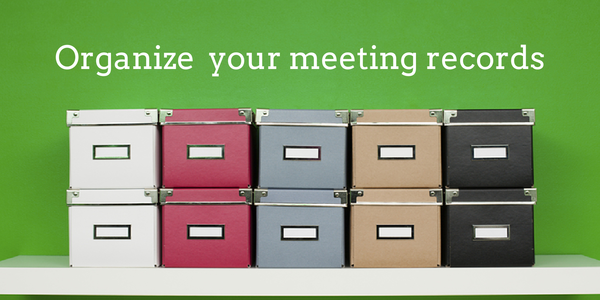 But how, exactly, should you go about it?
You could type your agenda and meeting notes directly in your calendar
...but there's not much space in those boxes and it's difficult to review past records.
Pen and paper are portable and unobtrusive during the meeting
...but if you do decide to share your notes you'll have to type them up, and they're a real challenge to search.
Word processors give you a simple way to structure meeting notes the way you like
...but it's up to you to figure out how to organize and store your work, and you inevitably end up wasting time formatting to get the bullets just right.
While enormously better than doing nothing at all, each of these approaches still leave too much of a blank slate for you to fill when you're trying to record your meeting results.
Related: See our template gallery to download free facilitator guides
What you need: software features required to track meeting results
Not many software products focus on meeting results. If you're looking for alternatives to GoToMeeting or other platforms that don't track the effectiveness and outcomes of your meetings, look no further.
Keep in mind, however, the software you select needs to make it easy to:
Find past decisions quickly
Who decided the logo should be blue? When did we add that task to the requirements? Which entrée did we select for the banquet? These answers should burst forth from a simple search.
See and manage patterns or trends
When you look at your last 5 meetings for a project, can you see progress? Can you easily pick out decisions from issues and tasks? If you didn't label decisions in the past, can you go back and change that easily?
Share your meeting notes with others
Usually only one or two people in any meeting write things down, but what they capture often applies to the group as a whole. It's no good if you write down that hard-won decision but never show it to anyone else.
To meet these goals, your software needs at a minimum:
A way to organize records by date, topic, and group
Full text search
Tagging or category support
Email or export feature for individual records
And should have:
Tasking or to-dos, so you can identify next steps with an owner and due date
Yes, you can use Lucid Meetings
Let's just get this one out of the way: Lucid Meetings offers both meeting templates and a free personal edition you can use to take your meeting organization skills directly to Level 11!
Really, though, Lucid Meetings focuses on how organize and run great meetingscollaboratively with other people, going beyond note taking to incorporate audio conferencing, scheduling, reporting, and all kinds of other stuff. For the purposes of this article, we're going to assume that you're looking for something to use on your own, or that you want to compare options before diving in to our meeting excellence.
Happily for you, several tools meet and exceed the minimum requirements above. People who successfully organize and track their meetings typically use software products that fall into one of three categories:
Personal productivity software
Team productivity software
Meeting productivity software
Free Software for Organizing Meeting Records by Category
Personal Productivity Software
Personal productivity software gives individuals a way to organize tasks and content. Popular with GTD fans, life hackers, and anyone feeling that deep itch to just get their life in order, most include robust features for tagging, searching, and filtering.
Evernote's free edition rocks for those working to collect and organize a lot of information. Evernote rocks so hard that I'm not going to bother listing any other tools in this category. Why does it rock? These guys have 30 ways
Need details? These folks talk all about how they use Evernote to track meetings notes:
Personal productivity tools are best for:
Independent contractors and solo practitioners that don't often need to share records with others
Guerrilla leaders! Those who lead, keep good records and make work happen despite the antipathy of their group.
Team Productivity Software
Team productivity software gives a group of people a common view into the status of their work. Every member of the team can add and update tasks and related content, and see key decisions, issues, to-dos and linked documents.

Asana organizes team tasks and conversations into projects, and is free for up to 15 team members. The online guide includes an example of how to use Asana to organize and run meetings.
And here's a video from a gentleman who uses Asana tags for collecting meeting agenda items and hosting meetings

LiveMinutes sounds like it's all about board meetings, but it's not. LiveMinutes provides a place where teams can collaborate on documents, including meeting notes, related to a project or department's work. As a big bonus, you can then synch these notes back to your personal Evernote account (see above for why that's handy). LiveMinutes is free for now, although a paid version is expected later this year.
Team productivity tools are best for:
Teams that already use them on their projects
Internal meetings, where you won't need to teach clients or people from other companies how to use your collaboration tool
Simple meetings, without a lot of associated documents
EXAMPLE: WIKIS & BLOGS
Non-profit organizations and software development groups often collaborate on their agendas and meeting records using wikis or blog software. In some famous examples, these groups evolve to rarely meet at all, electing instead to publish status updates on the blog.
A caveat on this one: not all wikis or blogs are free, and using a wiki or a blog won't show you how to structure your meeting records. It can also be hard to find records in a wiki or blog.
In many ways, wikis and blogs have the same blank-slate issues you face when using a word processor. Unlike a desktop application, however, wikis make it very easy to collaborate with others on meeting content. They also ensure that these records can be maintained after the original author leaves the group.
Wikis and blogs are best for:
Non-profit technical organizations (with members who don't fear markup languages or internet protocols)
Groups with high churn, where keeping records over a long period of time becomes important for bringing new people on board
To see this in action, look at how these organizations track their meetings.
Related: Free Tools for Scheduling Your Next Meeting
Meeting Productivity Software
Meeting productivity software focuses specifically on improving the efficiency and effectiveness of meetings. These products give you a way to organize meeting agendas online, track time, and publish professional meeting records. When you want to improve meeting results, these tools provide the best support.
Meeting productivity software is best for:
People working in groups with representatives from multiple teams, companies, or other diverse interests; especially good for client and committee work
Teams establishing or standardizing their meeting processes; any group looking to support effective meeting practices
Consultants, managers, coaches, boards and others for whom meeting results are a key work deliverable
Minutes.io provides a simple interface that looks and works especially well on an iPad. This is a great choice if you primarily need a way to easily produce professional-looking meeting records, and need something entirely free.
UPDATE April 2015
I've removed MeetingKing from this list, as they no longer offer a free version.
There are many paths up the mountain
The fact that you've found and read this article means that you're already on the way to owning your meeting success. Whining about meetings is the norm, and you're rising above it to a better, less annoying and more rewarding place.
Depending on the groups with which you meet and the kind of meetings you support, the tools you need on your journey to excellent meetings will differ. Hopefully you've seen an example in the list above that sounds like it would work for the meetings you hold. The good news is that you don't need to start with a blank slate and you don't have to pay a lot of money to start getting usable results quickly.
---
QUICK REFERENCE: LINKS IN THIS ARTICLE
Just Awesome
Software
Examples and How-Tos
Meeting Notes Template Download
This download is a Word template you can use to create professional meeting records. Download, customize, and start sending professional meeting notes to your colleagues today!