Lucid Meetings evolved significantly in 2014, making it easier than ever to hold well-organized meetings for all projects and teams. New features released in 2014 include:
Calendar integration & an updated Dashboard
New and improved, the Dashboard surfaces the most important meeting tasks for each person in the coming week. Here you can see at a glance the meetings you have scheduled, people you'll be meeting, and any outstanding tasks needing completion.
Lucid Meetings Dashboard.
The dashboard shows the current week's calendar, with a full calendar just a click away. For those groups who send invitations using Outlook or Google Calendar rather than Lucid, we added features to automatically synch the Lucid meetings calendar directly with your existing calendar.
Lucid Meetings appear automatically on subscribed calendars.
Automated reminders & improved email
Email invitations got a facelift, providing big clear buttons to get people into meetings on time. Email reminders sent just before the meeting make sure everyone has the meeting information in the top of their inbox when meeting time comes.
A screenshot of the meeting reminder I just received. Must finish this post fast!
You have to remember a lot of details to send email invitations and reminders that work, and our guide on how to do this yourself is one of our most popular downloads. Personally, I'm very happy to know that Lucid takes care of all this for me!
Integrations with Basecamp, Skype, Harvest, Dropbox, & Box
We continually add integrations to connect meetings with the products teams use every day, making it easy to share up-to-date information about projects and get meeting records into the systems you already use.
Visit the Integrations page to learn about all the products connected to Lucid Meetings, and let us know about integrations you want to see in the future.
Branded public meeting room links
Every meeting room can have a dedicated meeting link for use in email signatures, on community websites, or anywhere you need to post a simple link to a meeting. The meeting page provides quick access for organizers to start meetings, and can allow people to sign themselves up to join a meeting in progress.
These dedicated links are perfect for committees where the participants change from meeting to meeting, and for individual staff members who need a quick, one-click way to spin up ad-hoc meetings.
Paired with meeting templates (more below), dedicated links provide a powerful way to standardize your meeting process AND reduce the work for people who organize meetings.
A screenshot of my public meeting page.
Learn more about branded public meeting room links. (Tip: Scroll to see a demo video at the bottom of that page!)
Meeting Templates
Using templates is an amazing powerful way to make your meeting setup faster AND ensure you can consistently run your unique processes.
Each organization and meeting room can create re-usable meeting templates, standardizing the agenda, who's invited, meeting settings and instructions for participants and meeting leaders.
You can now create templates for all your common meetings, such as:
Team check in meetings
Regular committee meetings
Executive status updates
Account reviews
Project kickoffs
Learn more about meeting templates.
Meeting reports and built-in meeting reviews
Each meeting provides an actionable report showing how well the group planned, engaged, and followed-up on the meeting. Participant meeting ratings and feedback help organizers continually improve meeting processes.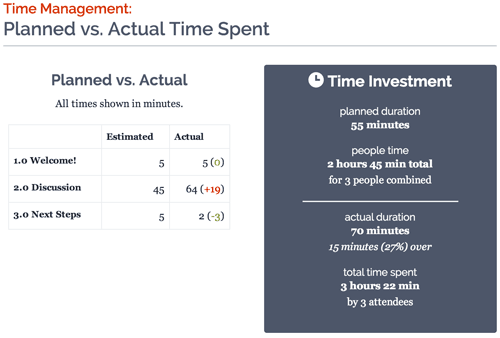 See the release announcement about meeting reports.
Enhanced Accessibility
This is one of those updates that's hard to show in a screenshot but has a big impact. Our developers worked hard to improve the online meeting experience for users with disabilities. Inspired by our work with international non-profit organizations, these accessibility enhancements have been well received by those working in the public and academic sectors as well.
To learn more, read our Accessibility Statement
Looking ahead
We built Lucid Meetings to be the best technology for running purpose-driven meetings that enable meaningful business results, and our 2015 roadmap propels this mission forward with a simplified interface, support for recurring meetings, pre-built meeting templates, wider integration into key business systems, and much more.
Watch this space for news of future releases, and let us know those changes you'd most like to see. And should you have praise or brutal honesty to send our way, we'd love to hear it! Leave a comment below, connect on Twitter, or send us an email any time.