Today we updated Lucid Meetings with some great new features:
First up: Copy Meeting!
The Copy Meeting feature replaces the old "copy agenda" feature, and it's WAY better. When you copy a meeting, your new meeting gets the same agenda, people, audio settings, and permissions.
Have a regular team check in? Copy your last meeting to get the same agenda and people invited to your next meeting. Always assign a few people to take notes? Copy your last meeting and we'll make sure those same note takers are all set up.
Here's how it works:
Go to your Meeting room and find the meeting you'd like to copy
Click the Actions menu next to your meeting and select Copy (see the picture below)
Set a date and time, then Save. And there it is - everything ready to go.

You can then tweak your agenda or anything else you'd like to change before the meeting.
New Report: Action Items across your organization
Last week, we created a new Action Item report in your meeting rooms showing opened, closed, and 12-month trends for that team's action items. Today, administrators and organization owners can see a roll-up of action items across all rooms by clicking the Reports tab on the organization home.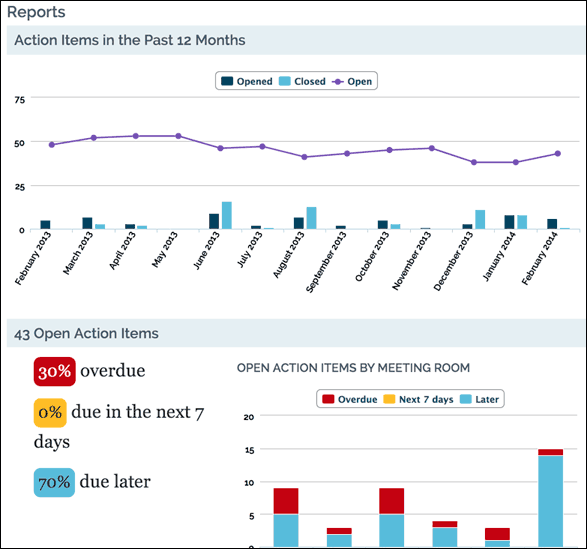 Looks like our teams have some action items to close up.
Other updates in today's release
Scheduling a brand new meeting simplified
When you schedule a brand new meeting, you'll no longer have to select an agenda template to get started. New meetings get a basic best-practices agenda which you can either update or replace, getting you to work on your content faster.
Bug fixes
People using group chat in Firefox for Windows reported an issue seeing the last line of long chat messages. This is fixed.
People taking notes during a meeting reported an intermittent issue where the page would scroll unexpectedly (aka jump around). This, too, is fixed.