Your richest project interactions happen in your meetings. From decisions to action items, to status reports and issues - how do you make sure this information doesn't get lost?
As a project manager, it's your responsibility to make sure your clients are always kept up to date. With Lucid Meetings and Basecamp project management software together, your projects and your meetings work together to make sure everything is in one place.
How it Works
When you schedule a meeting in Lucid, you can select from the people in your Basecamp project to invite: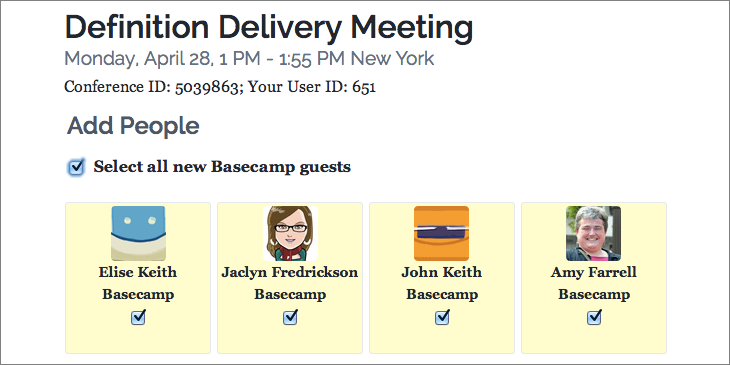 When you're ready, one click publishes the meeting event and agenda to your project where everyone can see the plan.
During your meeting, record notes, decisions and to-dos. When the meeting ends, you can click a button to send out meeting notes to participants, and one click publishes the meeting notes and new to-dos.
Lucid Meetings automatically synchronizes with Basecamp to-dos in real time to ensure you have the latest status ready for review in your next call: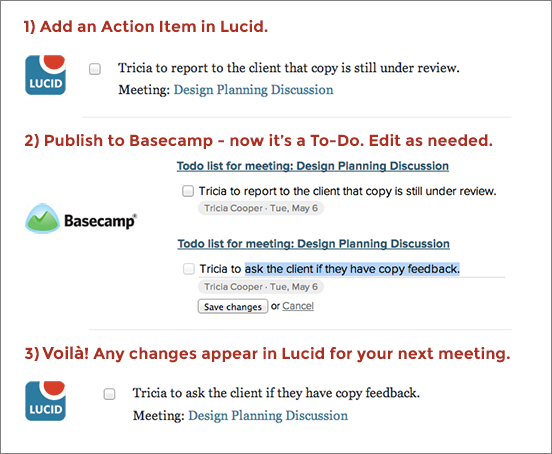 Finally, automated action item review lets you see and edit item's status during a meeting, helping you capture updates during your calls from those people in your project who never bother to log in to Basecamp.
Learn more about this integration to keep your projects moving forward at: http://www.lucidmeetings.com/basecamp.
Basecamp + Lucid E-Book
Why Lucid and Basecamp? Because better meetings make better projects. Improve Your Basecamp experience with Lucid Meetings and master the meetings that drive your project.