What makes for an excellent meeting?
Is it about keeping it short? Lots of careful preparation? Vigorous debate? Camaraderie? Inspiring presentations?
Maybe.
Maybe your meeting rocked because the group got through the update in under 10 minutes and went right back to work.
Maybe your meeting excited a client about your work and landed a new project.
Maybe your meeting got the team rallied in response to an ugly situation.
The ultimate test of meeting quality is subjective; something each person independently judges based on how well the group worked together to achieve the meeting goal within the time allotted.
This 'je ne sais quoi' of meeting management excellence can't be automatically divined by a computer. We can, however, use technology to record the actions that strongly correlate with awesome meetings. Which is why, starting today, you'll find a report associated with every Lucid Meeting.
Introducing the Meeting Feedback Report
Meeting reports in Lucid Meetings consist of five sections, each one showing details about a different aspect of meeting quality.
A quick note: Only meeting facilitators and managers can see these reports by default. You can elect to share the reports with your team if you wish, but the report's main purpose is to provide leaders with information that will help improve their meetings.
Section 1: Preparation
Success depends upon previous preparation, and without such preparation there is sure to be failure.

Confucius
The single most important thing you can do to improve your meetings is to prepare in advance. The more complicated or important the meeting, the more prep you need.
The meeting preparation report shows how far in advance the meeting was scheduled and invitations sent, whether the goal and agenda were ready, and which participants contributed. Facilitators also see buttons to complete any preparation steps left undone, like sending invitations.
Here's a screenshot from one of our recent (less successful) meetings.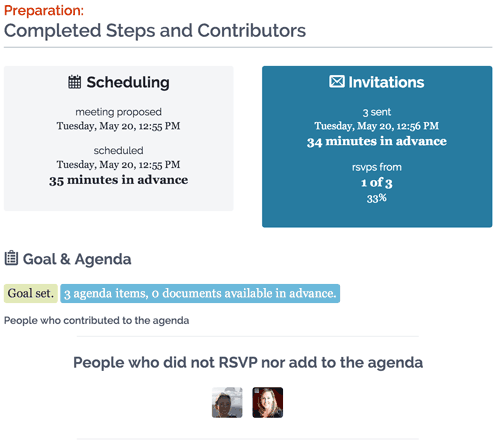 THE GOAL:
For best results, aim to have the meeting agenda outlined, reports posted, and invitations sent AT LEAST 24 hours in advance. Again, the more important the meeting, the earlier this needs to be done.
Section 2: Time Management
It's not enough to be busy, so are the ants. The question is, what are we busy about?

Henry David Thoreau
People who complain about meetings usually focus on wasted time. How the time spent in meetings would be better used on other tasks (like writing about how much they dislike meetings, apparently).
We obviously believe that meeting time can be some of the most productive time a team spends. In fact, we wrote a whole series of calculators showing how to figure out the value of a meeting for the time spent. For best results, meeting time must be planned and managed
Here's a screenshot of the time management section of the report. As you saw in the Preparation section, we hadn't put much thought into planning the agenda. As a result, the conversation ended up drifting and going long.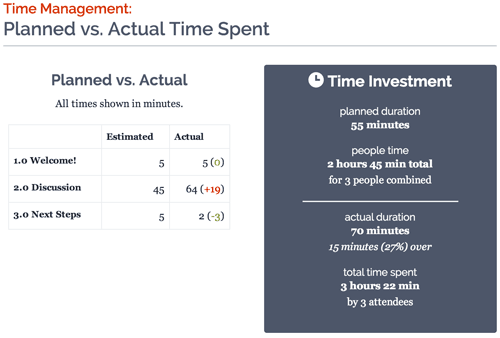 THE GOAL
Before the meeting, you can see if the time you're planning to invest looks appropriate to the meeting goal, and adjust where necessary. Afterwards, you can see how closely the time spent matched your plans. Over the course of a few meetings, you'll quickly see which topics tend to take more or less time and can improve your agendas accordingly.
Section 3: Participation
If people arrive late, leave early, spend the meeting checking email, or otherwise disengage, they can't contribute to achieving the meeting goal.
The participation report shows when the people in your meeting actively contributed to the online meeting.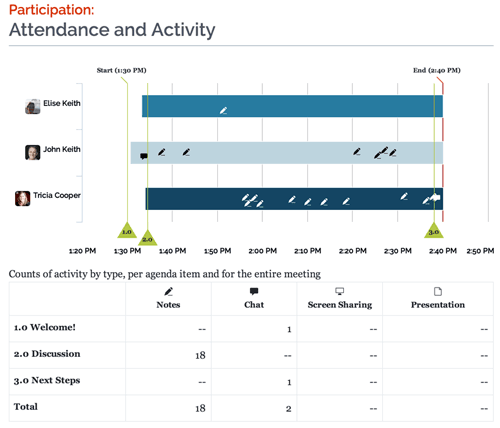 You may see several people who don't do anything that the report can show. This doesn't necessarily mean that they were actually updating Facebook. It's possible that they were very actively engaged in the discussion, or that perhaps they're really good listeners. You can know, however, that those people chatting, adding notes, or taking some other action have their focus on your online meeting.
THE GOAL
The goal is to keep everyone engaged. If you feel engagement in your meetings flagging and the participation report shows little to no activity, give people more to do. Turn on the speaker queue and have them raise their hands. Collect feedback in chat. Ask them to take notes. They will immediately become more engaged in your meeting and start contributing more directly to the result.
Section 4: Feedback
I think it's very important to have a feedback loop, where you're constantly thinking about what you've done and how you could be doing it better.

Elon Musk
The meeting feedback survey is optional and responses anonymous. If you ask for and receive feedback, you'll get the most directly actionable advice possible on how to improve your meetings.
Here's the feedback section of the report from our meeting.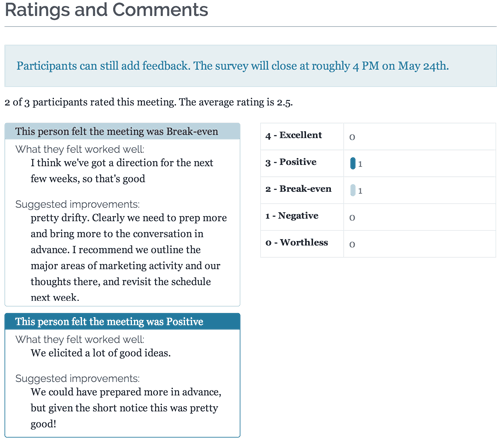 THE GOAL
Use the meeting feedback form to learn specifically what works and what needs to change for your team. If you want the best possible feedback, make sure to let the group know both that their answers will be anonymous and that you're really interested in constantly improving. Most people tend to be kind (or silent) in their feedback, so you'll need to give them special permission to be honest and detailed if that's what you want.
Section 5: Follow Up
You are what you do, not what you say you'll do.

C.G. Jung
Meeting follow up is the first step towards translating the meeting decisions, agreements, and next steps into action. The follow up report gives you concrete steps to complete and, if not done, links to complete those steps.
Here's the follow up report for our meeting.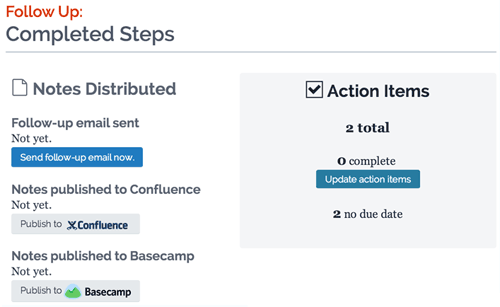 THE GOAL
As a facilitator, you have two follow-up responsibilities. First, distribute the notes. You'll see links to send these out by email and/or publish to the system of record, making this easy.
Second, make sure any action items do in fact get done. The key to establishing trust with clients and each other is to do what you say you'll do, and following up on action items is one way to make sure this happens.
Looking Ahead
This first set of meeting reports can help leaders inspect and improve on an organization's meetings. Over time, this report will evolve as we add new features to Lucid Meetings. Soon, as the number of meetings with report data increases, you'll start to see information from these reports aggregated at the room and organizational level, making it possible to identify trends and variations across the organization.
We'd love your feedback!
Tell me. And remember, this is for posterity so be honest. How do you feel?

Count Rugen, The Princess Bride
What do you find useful in the meeting report, and what would make them even better? Send us an email, leave a comment, or catch us on Twitter @lucidmeetings.