If there's one standard business practice people complain about more than meetings, it's tracking time.
And yet both great meetings and accurate time tracking are critical to the business's success for many who work with clients.
We recently released reports showing how a group spends its time in each meeting. As we walked a client through the new report, she said "Hey, this is great! It will make it really easy to see how much time I should track for my project meetings!"
After all, time in meetings is often billable time - one of the many reasons clients love it when you keep those meetings short and productive! And while the report may help with time tracking, we realized we could make it even easier than that by integrating the time tracking directly into the meeting itself.
What the Integration with Harvest Does
This integration provides buttons for starting and stopping Harvest timers directly within Lucid Meetings.
Why this is Cool
1. Harvest timers make it easy to capture the time spent preparing for a meeting.
When we think about meeting time, we're usually talking about the time the whole group spends in the meeting together. But for a really great meeting, the time spent preparing- creating presentations, capturing issues and decisions for the discussion, coordinating schedules and managing invitations - may actually be greater than the meeting time itself. This preparation time is critical for your meeting success, which makes this work that needs to be done and should be tracked.
2. Timers in the meeting help ensure everyone gets their time tracked right away.
Got the whole crew on the call? Each team member can start a timer when they join the meeting, helping them get that time tracked well in advance of the end-of-week rush.
How Time Tracking with Harvest Works in Lucid Meetings
First, if you haven't checked out Harvest yet and want to learn more about how it can help your company with time tracking and invoicing, visit the Harvest website here:http://www.getharvest.com/
For those who have a Harvest account, set up with Lucid is simple.
STEP 1: ADD THE HARVEST INTEGRATION TO YOUR ORGANIZATION
You will need to have account owner or administrator access in Lucid Meetings to complete this step.
Log in to Lucid Meetings and click on your organization's name in the side navigation. Click the Settings tab, then the link to Add a new integration. You'll see Harvest listed there. Simply click the button to Add integration then confirm by clicking Enable on the next page. That's it.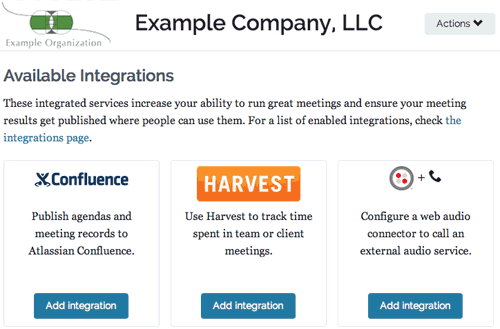 STEP 2: TRACK YOUR TIME
When you schedule your next meeting, every team member will see the Track time using Harvest button at the top of the meeting home page. Clicking this button brings up the native Harvest time tracking panel. The first time you launch time tracking from within Lucid Meetings, you'll need to log in to Harvest.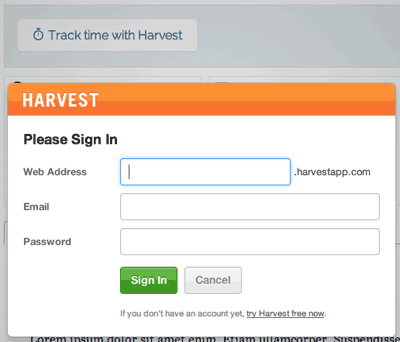 Once logged in, pick your project and task, and start the timer. We've pre-filled the task description with the meeting name, but you can edit that if you wish.
During your meeting, access the Harvest timer from the menu bar at the bottom of the page.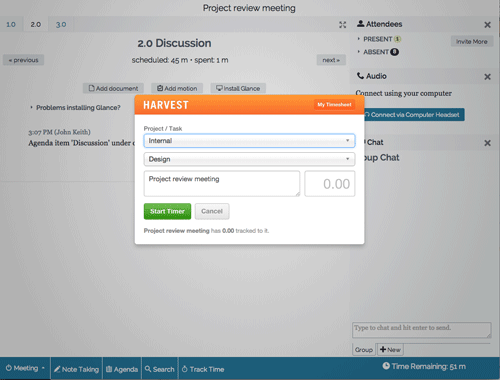 Easy cheesy. Meeting mastered, time tracked, and moving on!
FINAL NOTE: GUESTS DON'T SEE THE HARVEST BUTTONS
Only team members see the buttons to start the Harvest timers. Most people invite clients to meetings as guests, and these guests never see the time tracking buttons. That way, you don't have to worry about looking gauche in front of your client.
For more info, check out our Harvest integration page.