It's been just over a month since our last big release. We've spent the month focused on some of your most requested features.
Check out the details below. And if you don't see your favorite idea below, let us know!
Big Feature #1: Meeting and Room Sign Up Forms
Sometimes you know exactly who should be in your team, and sometimes you need to open it up for people to sign up.
Meeting rooms now have an option for a public sign up form that anyone can use to request access to your meeting room. When enabled, you have a choice of moderating all new members, or you can provide an access code that those-in-the-know use to gain automatic access.
Public sign up forms can be turned on by room facilitators, and the link to the form can be copied from the room Settings tab.
Here's how:
1. CLICK TO EDIT THE MEETING ROOM SETTINGS

2. TURN ON THE SIGNUP FORM AND, IF YOU DON'T WANT TO MODERATE PEOPLE, SET AN ACCESS CODE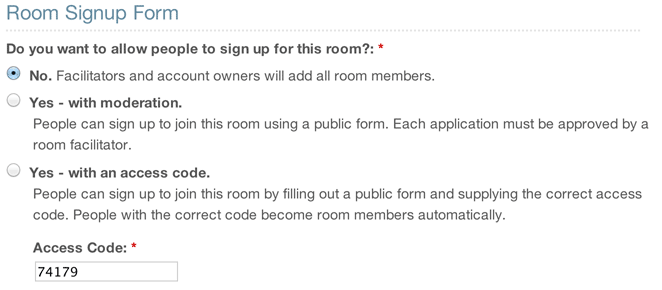 3. COPY THE NEW FORM'S LINK FROM THE SETTINGS TAB AND POST IT WHERE PEOPLE CAN FIND IT
Just like with meeting rooms, sometimes you want to simply post a link to your meeting and let people add themselves. You can turn on and copy a public meeting signup link on the meeting Settings tab.
If enabled, all requests to join a meeting will be presented to the meeting facilitators for approval. When people request to join your meeting in progress, you'll see an alert pop up allowing you to quickly approve their request and add them to the meeting.
Big Feature #2: VoIP using SIP Audio
SIP!!!
Lucid Meetings integrated audio now supports direct HD SIP connections. This computer-based audio connection provides great quality voice and is included in the base subscription price.
Because SIP isn't something that everyone knows about and we don't want to confuse your meeting participants, we've made showing the SIP address an optional feature that you can enable on the meeting room Settings tab. Once on, we'll display the SIP address in the Call Info for your your meetings.

Even though we don't show the SIP address in every meeting, you can use SIP to connect to any Lucid Meetings call. Simply launch your favorite SIP client and dial lucidmeetings@sip.lucidmeetings.com, followed by the meeting's conference and user IDs to connect.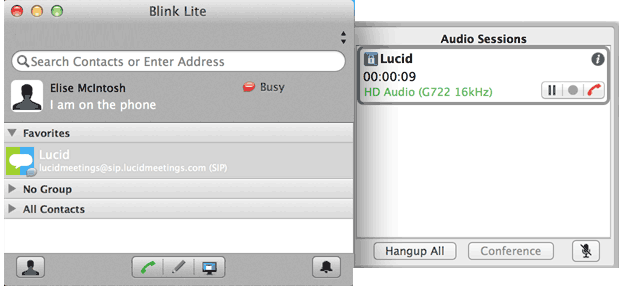 Learn more in our User Guide to Audio Conferencing.
A Fun and Useful Feature: Friendly Chat
In the meeting chat, type @ followed by another participant's first name to draw their attention. When someone is specifically referenced this way, we'll highlight this message for them on their screen. Another tip: @all will send everyone an alert.
And a little bit of sunshine: the in-meeting chat now sports a tasteful set of emoticons that will turn your text :) into real smiles.
Other Stuff
Request: Add strikethrough to note taking, motions, etc

Done!

Notes, action items, motions and export now support strikethrough text. We're already finding this handy for those times when the group needs to work through some tricky wording.

Request: copy presenters forward from previous meetings

Done!

When scheduling a meeting, you can copy forward a previous meeting. We now make sure any speakers assigned to agenda items are copied too. Groups with standing meetings really appreciate this one, as it makes it easy for everyone to go in and update their own agenda items before each week's meeting.

Request: show when a note was last changed

Done!

When someone edits a note or action item, we now show the name of the person and time of the change. For anyone trying to sneakily change other people's action items, we're sorry, but the game is up.

Request: distinguish between people who are logged in and those attending by phone

Done!

We've re-built the list of attendees in the meeting to fix some outstanding issues (for example, if you collapse the list, it will stay closed!). While in there, we've also made it easier to distinguish between people logged in to your meeting and those who are not.

As a facilitator, you'll see the pencil and presenter icons next to people logged in to your meeting. People attending by phone or who are otherwise simply marked present do not have these icons. Instead, you'll see a simple checkmark next to their names.

Request: Fix some bugs!

And we did that too.
To Everyone Who Lucid Meets: Thank You
If you requested a feature or reported a bug that we tackled in this release, thank you. Really - thank you!
Your feedback helps us get better all the time. Keep it coming! You can reach us by email, by phone or by post. Requests, opinions, issues, and ideas eagerly embraced.