This release of Lucid Meetings makes it easier for you to set up your organization and get meeting records into your existing systems.
Latest Integrations:
Basecamp and Basecamp Classic

Do you use Basecamp or Basecamp Classic to manage your projects? Now you can connect Lucid to your Basecamp account to:
Invite people from your project to your meetings
Show your meetings on the Basecamp project calendar
Publish your meeting agendas and records to Basecamp
Add your meeting action items as Basecamp To-Dos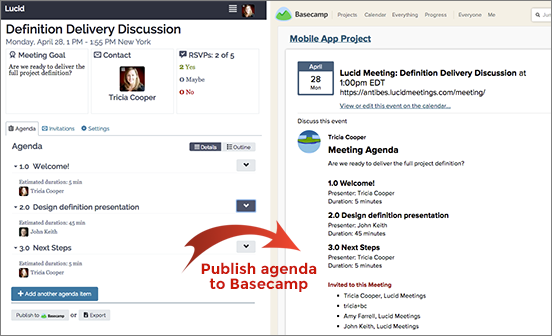 Using the integration means no more hunting for email addresses when sending out invites, no more lost decisions or action items, and no more copying and pasting information back and forth between Basecamp and your meeting. Simply connect your meeting room to your project to enable automatic publishing between both systems. Slick like butter.
New:
Meeting Ratings and Report
Measurement and feedback are key to improving any process, including meetings, and now you can easily get feedback on how to make them even better.
When your meeting ends, participants now have an opportunity to quickly rate it and comment on what they liked and what they felt could be improved. All comments are kept anonymous, to encourage feedback, and facilitators receive a link to the report once the survey closes.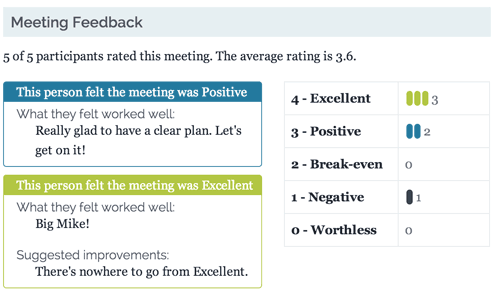 You can control which meetings use the survey, and who can see the final report. The new meeting feedback form is on by default, so check it out after your next meeting.
The Extra Loveliness
Navigation
The navigation has been tidied up, especially on mobile devices, which should make it easier to find your way around to your different rooms and account features.
New Integrations Dashboard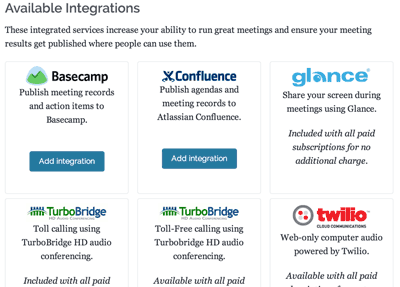 It's now easier to see all the available integrations and configure the ones used by your Organization on the new Integrations dashboard. Looking for a specific integration and not seeing it? Let us know which integrations you'd like to see.
Your Account
Now when you visit your account page, you'll see quick links to all the organizations you're in and tools for updating your profile and preferences, making it easier to find those features.
Organization and Meeting Settings
We've updated the Settings tabs for Organizations and Rooms to break apart all the different options into more manageable chunks. Settings control how people access your meetings, default audio options, integrations, and more, so if you haven't explored those options yet, now's the time!
Don't have a Lucid Meetings account? Get one!
Lucid Meetings personal accounts are free to use and perfect for freelancers and independent contractors who want to organize and run better meetings. Try some sample meetings, check out the integrations, and let us know what you think. As our newest report proves, we're super keen on feedback!