(The post below covers a recent Lucid Meetings release. Check out one of our latest post that breaks down the anatomy of the perfect meeting invitation email and includes downloadable business meeting invitation templates!)
---
Despite all the fervor around social networking, unified communications and group chat, email remains the most used and most trusted form of collaboration in the workplace today.
No other communication channel can match email for reliability and ease of use, especially when working with clients and people outside your company.
Email confidently bypasses the barriers presented when your team includes people with different time zones, connection speeds, firewalls, assistive technologies, and availability.
Lucid Meetings sends a lot of email to help teams coordinate and follow up on meetings, and we've heard from many of you about what would make this critical communication more effective. So the next time you create a Lucid Meeting, you'll notice some changes to the email that goes out. Read on to learn specifically what changed and how these changes will improve your meeting communications.
Related: 5 Icebreakers for Distributed Team Meetings
Shorter, more useful subject lines
Sweet and to the point, all meeting email subject lines now simply state the kind of email (scheduling notice, invite, cancellation, etc) and the meeting name. This makes it easier for people to quickly scan the message subject in their inbox and decide if they need to read it now or save it for later.
You can always edit this subject line before you send email to make it exactly perfect for your group.
Add a personal message and send a test
When you send invitations and follow-up email, you can now include a personalized message that will appear at the top of the email. This is a great place to add that critical context explaining why each person should attend or thanking them for their efforts. Then, use the new option to 'Send a test email to me' to see exactly what your invitations will look like before you send them to the rest of the group.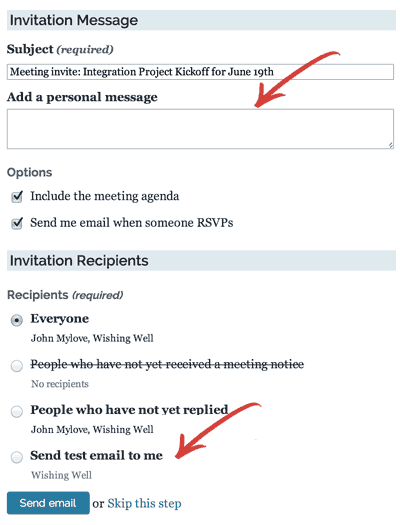 Better formatting and clearer calls to action
"No one RSVPs to my meeting invites! You need to make that much clearer."frustrated customer, paraphrased
When someone accepts a Lucid Meeting invitation on their calendar, that RSVP appears in Lucid Meetings. But not everyone uses Outlook or a calendar system like that. So now, all meeting email messages include big, clear buttons that connect people directly to your online Lucid meetings.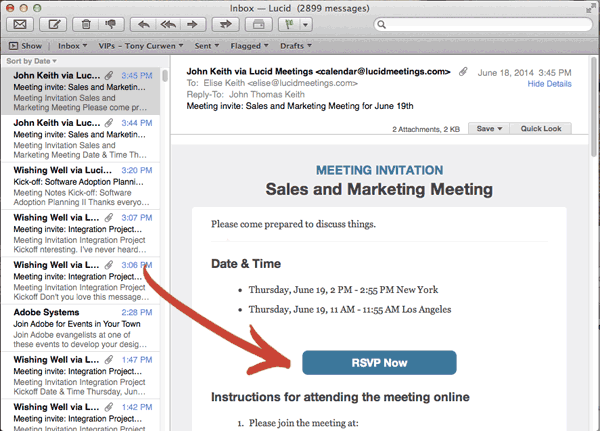 To make this possible, we now send meeting email in HTML format, with a plain-text version available for those who can't accept HTML email.
Meeting notes and agendas included directly in the email content
Now that we're sending formatted email, we have a way to include the meeting agenda and meeting notes directly in the email content, rather than as attachments which were easy to miss.
Next time you send a follow up meeting email, click to include the meeting notes to send people an email containing all notes, action items, links to presentations, and attendance records directly in the email body. If you are interested, check out our post on free tools for organizing your agendas and notes.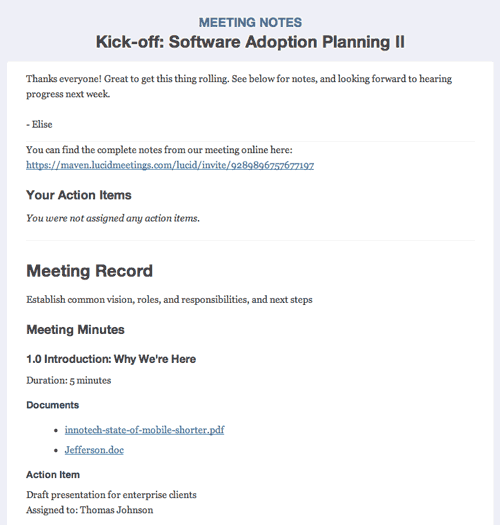 Everyone gets scheduling notices in their preferred time zone
Now when you get a meeting scheduling request offering a range of possible meeting times from which to choose, you'll see each meeting date and time in your preferred time zone rather than the meeting's default time zone. New people who have not yet logged in and set their time zone will still see available meeting dates in the time zone selected by the meeting facilitator.
Related: 10 Tips for Running Online Meetings with People in Other Countries
Everyone gets email in their language
Do you prefer to work in English, but your client is more comfortable in Chinese? Now when you send meeting email, each person will receive instructions for logging in and participating in their preferred language. Need to run a multi-lingual collaborative whirlwind? Bring it on!
Feedback?
Send us an email or leave a comment below. We'd love to hear your questions ideas and suggestions, and email definitely works for us!
See how this works for yourself using a free Lucid Meetings personal account. When you sign up, we'll automatically send a sample meeting invitation and a follow-up report to your inbox.
Email Invitation Templates Download
This download includes 3 meeting invitation email templates you can copy and paste into Outlook, Gmail, or any email client.
Take This FREE Online Course for Even More Info!