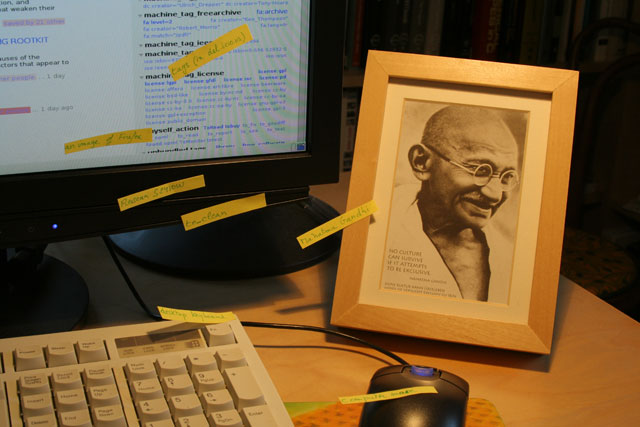 Lucid includes a powerful feature you may not have noticed: tags.
Whenever you take a note, add an action item, or even start a meeting, you can slap a tag* on that sucker.
Once your content is tagged, it's even easier to find and work with it later on.
(* = Technically, you can slap an arbitrary number of tags on each item. But let's keep it simple for now.)
Image: Lost in Tagging by Flickr user Alexandre Dulaunoy, used under Creative Commons license.
Decisions, Decisions
When I'm taking notes, those notes represent different kinds of activity -- mostly things people said, but occasionally a concrete decision the team has arrived at. When I see one of those decisions, I take the note and fill in the "Tags" box with the word "Decision."
Tagging that Decision is handy because in the last step of my agenda, I can add a Smart List that automatically grabs all the "Decisions" from that meeting and displays them in a list. That review step is a powerful way to get agreement that, yes, we decided to do this set of things -- and have that agreement on the record. (This is also a good time to edit those Decision-tagged notes, in case the team decides I didn't get it quite right the first time.)
Lucid Meetings ships with three default tags: Decision, Issue, and Parking Lot. But you can add whatever tags you like, and the system will let you search for any tag at any time. Because the tagging system is completely up to you, you can use tags that make sense for your team. You don't need to configure tags beforehand, just type 'em as you go along.
Searching for Tags
Lucid includes a powerful tag Search tool. When you're out of a meeting, hit the Search link in the top navigation; if you're in the middle of a meeting, just hit the Past Meetings tab. From there, you can search for "tag:Decision" to find anything tagged, you guessed it, as a Decision (there also happens to be a handy shortcut for that search in the list of suggested tagged search results). You can search for any tag you like, of course.
You can also create Smart Lists based on tags, as I mentioned above. This is a powerful way to roll up specific things that happen in a meeting for team review and buy-in -- and we'll write more about clever ways to use Smart Lists in a future post.
Tagging Action Items
You can apply tags to action items. I use this to prioritize them: high, medium, and low priority. By doing this, you can add a review step (again using a Smart List) in your next team meeting to review open action items -- or simply review the open "high priority" items.
Tagging Your Meetings
Notes and action items aren't the only things you can tag -- you can tag an entire meeting. This is useful for categorizing (what kind of meeting was this?), as well as indicating at a glance which client or team was involved (let's tag this one "ACME" so we can look up all our calls with the ACME folks later...).
If your team meets with different clients or about different projects on a regular basis, tagged search results is a handy way to keep track of them all.