"iPad Sales May Reach 66 Million In 2012"
With a headline like that, it's no surprise that we've focused some attention — quite a bit of attention actually — toward making Lucid Meetings work very well on the iPad.
This focus is especially warranted when considering that as many as 71% of iPad users are management level or higher in their organization. Managers need to meet, and the iPad is a natural fit for the task.
Here at Lucid Meetings, we're dedicated to making your online meeting life as easy as possible. Attending a Lucid Meeting is as easy as pointing your web browser in our direction. We do the rest.
And when that web browser happens to live on your iPad, we take special care to deliver an even better experience in the form of an Apple iOS Web Application. Such applications use Web 2.0 technologies to deliver a focused solution that looks and behaves like a built-in iOS application.
What You Can Expect From the Lucid Meetings Web App
Without getting too technical, I'll say that the overall benefit of the Lucid Meetings Web App shows up in a certain mindfulness of design.
That is, with an understanding that the iPad is a popular environment for our user community, we make design and implementation decisions that work well for the iPad (while also being mindful of other user environments, such as IE7, for example). With respect to the iPad, our core design tenets include:
Being Mindful of Performance
Being Mindful of Form Factor
Selecting iPad-Friendly Technology
Planning for Orientation Changes
Making it a Web Application
Adding Subtle Touches Where We Can
USER EXPERIENCE IS OPTIMIZED FOR BOTH PORTRAIT AND LANDSCAPE DISPLAY
Our initial desktop application was built with a tacit understanding of the desired screen area for the browser. During a meeting, we have a lot of information to make available, and we have sophisticated telephony and web conferencing technology to display.
These requirements beg for some layout consideration and it turns out that the iPad dimensions work very well as a guideline. With a few slight adjustments to our layout, the application fits perfectly on the iPad without any funny business or font scaling. It's a good thing.
Beyond that initial landscape layout, we considered what happens on orientation change from landscape to portrait (and vice versa). For tablet devices such as the iPad, switching display orientations is part of the natural user experience.
To that end, we treat a switch to portrait mode as a focusing activity by removing application complexity from the view and focusing on the main meeting area. You can see an example of this in the iPad screenshots below.
SCREEN SHARING TO THE IPAD "JUST WORKS"
Screen sharing is a popular feature within the meeting context and selecting the best technology was an interesting challenge. In the end, we integrated with the Glance Networks screen sharing service, and that decision has been lauded by our users.
Glance screen sharing is fast, easy, and client-free for participants - no Java, Flash, or other software installation is needed - just your web browser. This browser-based participation is something that plays very well with the iPad (and iPhone, Android, and other mobile devices).
FULL USE OF THE BEAUTIFUL IPAD DISPLAY
When you access websites via Safari, the browser itself occupies a sizable chunk of the display area. When run as a web application (see below), the browser chrome disappears, allowing Lucid Meetings to use every available pixel for your meeting information.
This may sound like a small deal, but in practice it feels huge and expansive. You will welcome this change and begin to wonder why other web-based applications don't follow suit.
DYNAMIC CONFIGURATION OF THE SOFT KEYBOARD
Lucid Meetings uses HTML5 input types and other "special sauce" to make data input easier and more natural. HTML5 input types include email addresses, URLs, numeric data, telephone numbers, and others. We've applied these input types wherever possible to provide usage hints to all HTML5-aware browsers.
The iPad Safari browser, in particular, is aware of these types and will display the "right" keyboard for the type of data being entered. Where the iPad doesn't know about such things, we've implemented special code to force, for example, the numeric keyboard to appear.
This type of behavior speeds repetitive tasks and helps with our overall "it just works" design goal.
SUBTLE TOUCHES THROUGHOUT
We are continually tweaking our iPad meeting user experience for perfection, but you'll already find some goodies in there as you use the application. Things such as making links and buttons fatter and wider — more finger friendly if you will.
We've taken steps to make the landscape/portrait orientation transitions smoother by eliminating display zooming upon transition (this kind of zoom may be appropriate for a web page, but not necessarily for a web application).
Our selection of a rich text editing capability was deferred until Apple released the necessary technical support, but now that the iPad is ready, we're here to take advantage.
In addition, Lucid can be used as an iPad note taking app directly in your meetings.
How To Get Started
GET A LUCID MEETINGS ACCOUNT
First things first, you'll need a Lucid Meetings account -or- you'll need to be invited to someone else's Lucid Meeting. Lucky for you, we have a no obligation, free trial that's available here:
LOG IN WITH YOUR IPAD
To help you get the most out of our iPad support, we automatically prompt you to add the Lucid Meetings web app to your iPad Home Screen.
When you take this step, several good things happen: you will now have a desktop icon to launch Lucid Meetings directly, subsequent launches will show a brief splash screen while loading, and Lucid Meetings will now use 100% of the available screen area.
All the iPad features of Lucid Meetings are now at your fingertips - enjoy!
ADD TO HOME SCREEN PROMPT

LUCID MEETINGS LAUNCH ICON

LUCID MEETINGS SPLASH SCREEN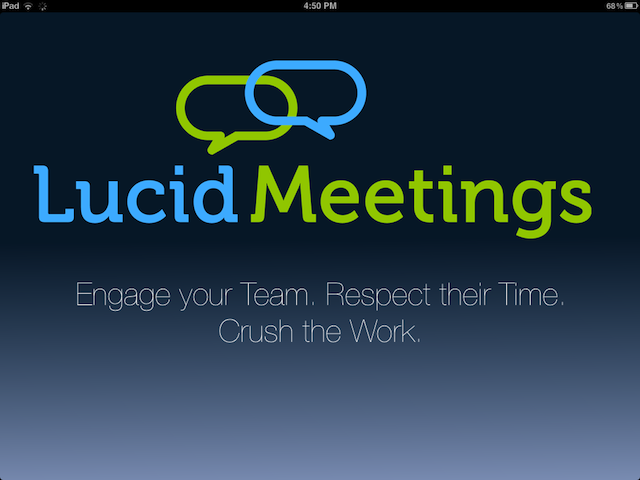 LUCID MEETINGS IN FULL SCREEN MODE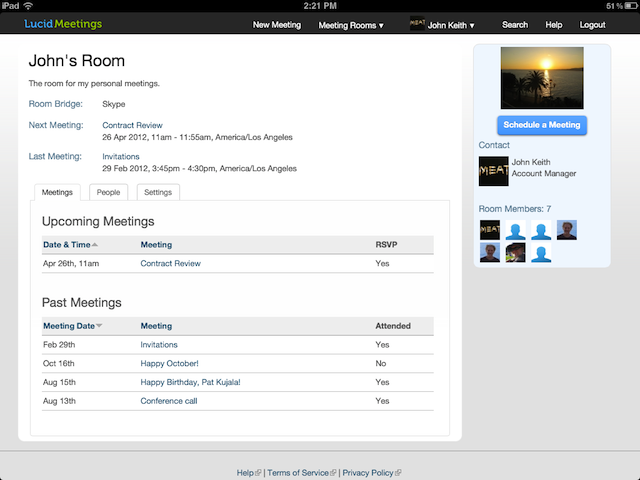 FULL MEETING CONTEXT IN LANDSCAPE MODE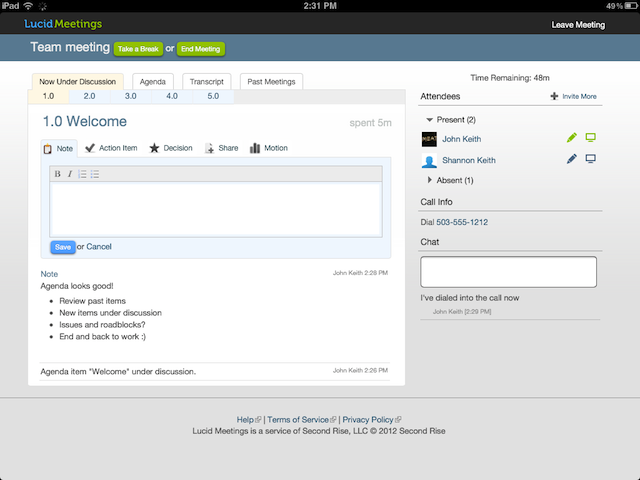 FOCUSED MEETING CONTEXT IN PORTRAIT MODE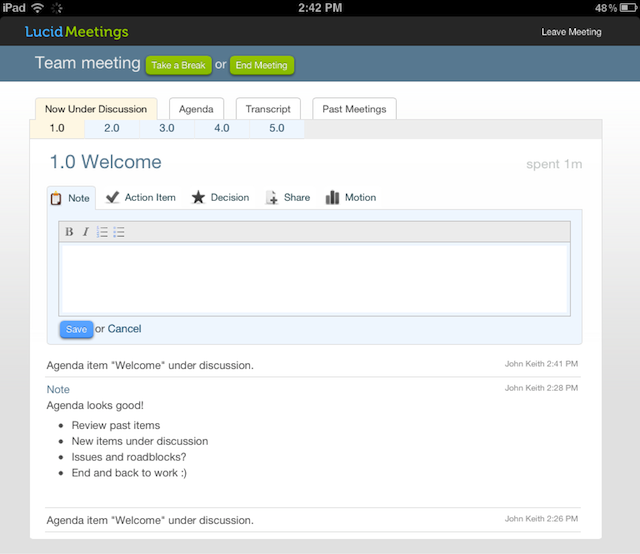 VIEWING A DESKTOP SCREEN VIA GLANCE INTEGRATION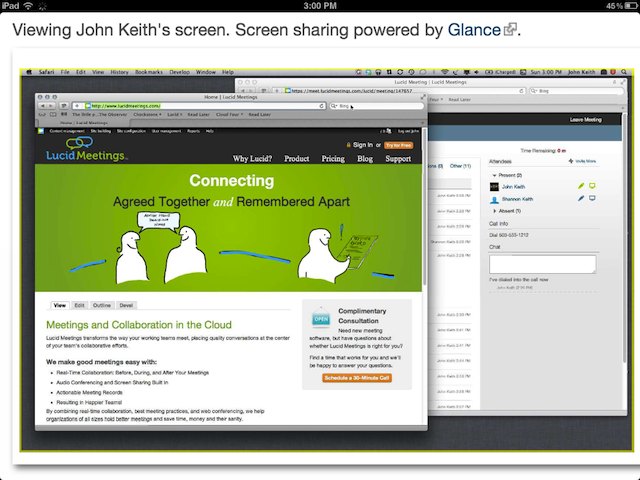 RUNNING A PRESENTATION IN THE MEETING