Reasons to Reconsider How Data Is Shared in Remote Meetings
Hello friends! Please enjoy this guest post about information security in meetings from Lisa Michaels, a thriving content marketing consultant from Portland, Oregon.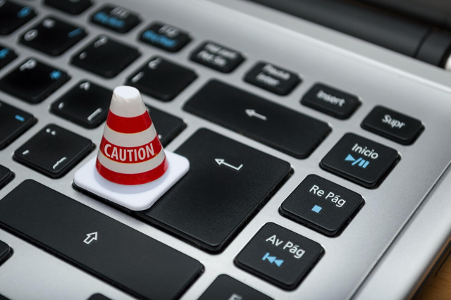 The way we work has changed on a fundamental level.
These days, around 56.8% of US employees (or more) are working remotely, and there's a good chance that the trend for flexible working will continue to grow.
Remote and hybrid workforces can't always meet in-person to share ideas and discuss projects.
Instead, they need to access online tools that bring them face-to-face with teams wherever they are.
The good news is that video conferencing and remote meeting services allow your staff to remain productive in any environment.
On the other hand, rushing into a meeting solution without proper planning can be dangerous from a security and privacy perspective.
Remote Meetings and Security Issues
The COVID pandemic has caused a global surge in people using video conferencing tools and collaboration software.
However, as teams continued to operate online, this also caught the attention of criminals hoping to leverage digital tools to access crucial information.
As business leaders rushed to ensure that their staff could continue to work from home, concerns like security and compliance took a back seat.
This led to several significant data breaches and security disasters during 2020.
For instance, Zoom users were suddenly faced with the issue of "Zoom bombing," where outside parties could join meetings and potentially hear sensitive information.
Companies started to fall victim to more phishing scams and ransomware attacks as employees struggled to get used to a new environment where they were working online.
The problem became so significant that the FBI even released tips on how to stay secure in remote meetings.
Large scale remote working might offer a number of cost-savings and productivity benefits, but it has security issues to consider too.
Cyber criminals are using everything from fake emails about the COVID pandemic to dangerous app downloads to attack companies.
Today, reconsidering the way information is shared is essential if companies want to:
Empower remote workers without putting them at risk
Continue to offer excellent customer support and comply with privacy rules
Reduce the risk of cyber-attacks and data breaches
Preserve reliable data banks and business productivity
There are several best practices you can employ to ensure your data is secure.
How to Reconsider Your Data Strategy
So if reconsidering your business meetings is essential, what exactly needs to change for companies and their employees to be more secure?
There's no one-size-fits-all strategy that will guarantee the protection of every brand, but there are some things you can try.
Choose the Right Meeting Solutions
Companies everywhere started facing a huge number of security issues during the initial stages of the pandemic in 2020.
Part of the reason for this is that many employers were rushing to empower their staff and putting security considerations on the backburner.
Now that we know hybrid and remote working strategies are here to stay, it's crucial for organizations to do their due diligence.
Take the time to ask yourself what kind of features you need from a meeting provider to support your employees.
Do you need meeting notes, and a safe place where you can store them between discussions?
Are you going to be recording your meetings, and can your supplier keep those recordings stored in the correct data environments?
Learn as much as you can about your meeting solution provider, from where their servers are, to how well equipped they are to deal with things like GDPR or HIPAA.
Prioritize Good Control
Access to secure data storage facilities in the cloud is only the first step in securing your meeting environment.
You also need to ensure that you have the right control over the things your employees and guests can do in a meeting.
For instance, you should be able to set passwords and restrict access to video calls to the people who most need to be there.
You could even look for a video conferencing tool with a waiting room, so you can prepare to welcome users in after you're sure that every member of staff is supposed to be there.
Great meeting solutions will also allow you to control who can record conversations, and who can share files or download content from the discussion.
You can even mute staff members when they're in the meeting or turn off videos that are too distracting.
Provide Policies for Employees
Improving employee awareness is an important part of any good security strategy for today's remote meetings.
More often than not, the biggest security issue for any employer is their staff members. It's all too easy for a user to click on the wrong link and allow a virus access to a system.
Remote employees could even connect to your company through an unsecured network, which allows anyone into your data.
Providing staff with a clear policy for how they should use meeting tools, and how they can protect themselves online is crucial.
Make sure that your team members know how to recognize a phishing email, and that everyone stays safe with secure connections or VPNs.
You can even encourage employees to download software to protect against viruses and make sure they regularly update their tools with security patches.
Track Your Data
Part of staying safe in the digital world is knowing where your data is going. We mentioned the importance of choosing a meeting solution provider who can give you the data sovereignty you need above.
However, you should also be able to track and protect your information wherever it is.
Look into the encryption options that your vendor has in place and determine whether your data is secured at every stage of its journey.
End-to-end encryption is essential when dealing with corporate information, and you should be able to control who has access to your records.
You'll also need a strategy in place for how you're going to back up your data too. Regularly backing up important information is often a crucial part of protecting against attacks.
Have a Plan B
Finally, sometimes no matter how hard you work to protect yourself from data issues, there's still a chance that you'll face a breach.
Since data protection is absolutely crucial for any business owner today, it's important to have a plan B.
If your system is breached, do you have a disaster recovery plan in place to get you up and running again?
Who needs to be aware of your plan, and what kind of systems do you need to put in place to ensure that you're ready to get the lights back on as quickly as possible when something goes wrong?
Can you automate backups to ensure your data stays up to date? How often should you test your strategy?
A thoroughly documented disaster recovery plan could be the difference between your company crumbling and managing to preserve your brand and reputation.
Stay Secure with Your Meetings
Meetings are still a crucial part of the day-to-day business schedule. However, the changing workplace means that we all need to reconsider how we keep these conversations secure.
If you haven't updated your security strategy since you moved into the world of remote and hybrid work, now could be the best time to start.
No one can afford to take a risk when data is involved, but it's up to you to do your best to keep your meetings secure.