The Anatomy of Meeting Notes That People Will Use
(Tip: Be sure not to miss the downloadable business meeting notes template at the end of the story)
Return Leverage, one of Lucid's Enterprise clients, found our downloadable meeting notes to be less helpful than they'd hoped. Toby Lucich from Return Leverage asked if we could improve the exports to help make it easier for busy professionals to read the meeting notes. We're thrilled to have had the opportunity to learn from his experience and improve the exports.
Since we made these changes in collaboration with Return Leverage, we asked Toby if he'd be willing to share more about why this format works, and how his company uses it to drive meeting results with clients. Happily, he agreed.
---
Toby Explains Why Formatting Can't Suck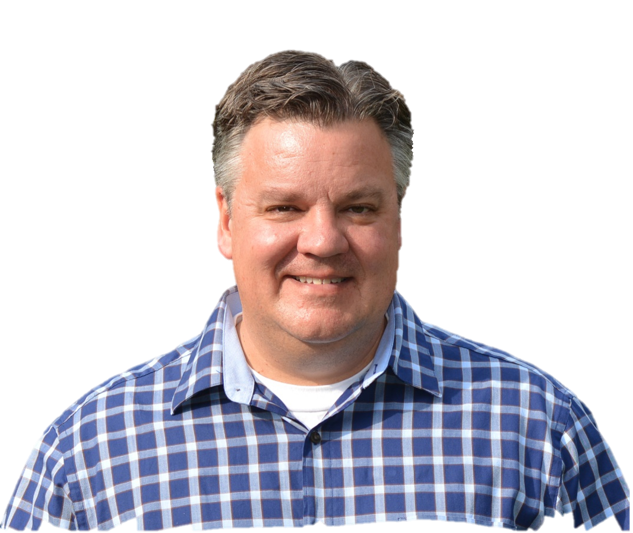 As an entrepreneur and management consultant, I've now worked with hundreds of business leaders in organizations big and small, for-profit and non-profit, both founder-led and professionally managed. I've worked with organizational leaders at all levels that have been charismatic, visionary, thought-provoking, strategic, detail-oriented; some have also been distracted, impatient, disengaged, incompetent, or simply apathetic. Leaders come in all shapes and sizes.
The common challenges I've seen all leaders face are the overly-packed calendar, shifting expectations, soft commitments, impending deadlines, and never enough time to get it all done.
Regardless of the client or their culture, our first obligation is fundamentally about effective communication. We believe that every single client deserves our best effort to capture and communicate the most critical ideas and actions that will efficiently and effectively turn ideas into actions, and actions into successful business results.
How this information is presented is a critical first step.
A clean, easy-to-read format is a powerful first impression in shifting the value from meeting notes toward meeting agreements or records for your stakeholders. You never know which meeting is going to change the course of the company.
We've recently collaborated with Lucid to redesign the exported report. Here's some of the design thinking that went into the new format.
Guiding Principles
Put Your Audience First (this isn't about you)
While many may circulate meeting minutes as a CYA precaution, the purpose should be to inform interested parties as efficiently and effectively as possible. At Return Leverage, our specialized meeting moderators understand that our delivery of meeting minutes is branded collateral that we're publishing to our clients. This is the tangible deliverable of our service, and needs to be clean, concise and consumable.
While the email-based minutes are very effective for most professionals, we have clients that prefer to open an attachment, or read a printed page provided to them. We don't assume that our digital preference is shared by all our stakeholders. We've also found that the more traditional the industry and older the business leader, the more likely your minutes will not be read in the email format.
Your Meeting Notes are a User Experience: Be Kind
If my stakeholders are already exhausted and still willing to read my meeting notes, it's time to be kind. This means making the meeting details as easy and painless to consume as possible, and recognizing that they probably don't want to read to the end of the report.
While earlier versions of the exported reports were technically accurate, they didn't quite feel like a polished, professional report. What we wanted to create was an easily consumed synopsis, summarizing the key details at the outset, and providing more context as needed for greater clarity.
Getting the Formatting Right
A few of my favorite changes that the Lucid team executed beautifully include:
Approachable. The new layout blends white space and formatted action item tables to move the eye more smoothly down the page. We wanted to readers to jump in, not reach for another scotch. The goal should be informed, not exhausted.
Prioritized. When I'm briefing a client about a missed meeting, we often start with agenda topics covered and action items that resulted. These are usually the big ideas, and often enough for them to get comfortable with the outcomes. Being able to easily see at a glance who was – and importantly who wasn't – in attendance also helps evaluate the context of the decisions and discussions that occurred. This goal was to provide enough information in ten seconds to determine if more time is needed.
Usable. Having walked into more than one meeting where printed notes are being referenced, we wanted to make the printed form useful and usable. In particular, the table design for action items invites a "check the box" approach to tracking task completion.

Contextual. Great note takers capture more than just tasks, decisions, risks, issues, and actions – they preserve enough conversational context to help readers understand where actions came from, or the inputs to big decisions. This isn't about transcription; it's about simply grabbing a few key phrases that can rekindle the conversation at a later date.

The new format repeats action items as formatted callouts, and presents them in the flow of the conversation where the action was captured.
Additionally, we now have all our meeting minutes pre-populated with a brief note "About Leverage" at the end of the report, connecting amazing meeting experiences and our deliverables back to the team that made them possible.
Saved Time & Leveraged Results
Selfishly, the reformatted design has given back 15–20 minutes per meeting during our post-meeting clean-up work. This adds up fast when you're running several meetings a day, and each report needs to look important enough to merit reading.
Probably more valuable though has been hearing that clients are even sharing – yes, sharing – meeting minutes with others in their organization that aren't using Return Leverage or the magic of Lucid Meetings yet. We are proud to play a part in improving the effectiveness of our client's communications, even when we're not in the room.
---
The 6 Parts of a Meeting Notes Template That Gets Read
Now that Toby's explained the rationale behind the new format, let's look at the details. If you use Lucid, the file exports now include these 6 sections in the order listed below.
We'll explain here exactly what to put in each section, and you'll find a link to a Word meeting notes template you can use at the bottom of the page.
Side Note: We call these exports Meeting Notes rather than Meeting Minutes, because the minutes for board and committee meetings have additional requirements. Formal "Meeting Minutes" often need additional formatting, and must be reviewed and approved by a vote in a following meeting before they're considered official.
1. Meeting Name, Date and Goal
At the very top of the first page, put the basic meeting information as the title of the record.
Example
Marketing Progress Check Meeting
Monday, 9 May 2016
Share updates on work in progress and confirm plans for the week ahead.
2. Agenda Outline
Include the agenda outline (not the detailed agenda) to provide a quick re-cap of the topics discussed.
Example
Agenda
Welcome
The Numbers: Review Key Metrics
Content Plans
Upcoming Events & Webinars
Share Customer Stories
Review and Close
3. Attendance
List who attended, and who did not. To keep this from getting too long, we print all the names on one line. Because we often have meetings that include people from multiple companies, we include the company name after each person's name.
Example
Meeting Attendance
In Attendance
John Keith (Lucid Meetings), Tricia Harris (Lucid Meetings)
Regrets
Elise Keith (Lucid Meetings)
4. Decisions Made
List any decisions that were recorded during the meeting. In Lucid, this list will include any notes that have the "Decision" tag.
Example
Decisions
We will not go to the conference in June; too many conflicts, no clear ROI.
All webinar recordings will be made freely available.
5. All Action Items
As Toby explains above, action items appear in a table, with columns for the action item description, who owns it, when it's due, and a completion date.
Example
Action Items
| Action Item | Assigned | Due | Completed |
| --- | --- | --- | --- |
| Add to email template footer an "about Lucid" bit: help people remember what we do! | Elise Keith | May 13th | |
| Complete edits to latest case study and get out for approval by EOD | Elise Keith | May 9th | |
6. The Full Meeting Record
This section includes everything organized by agenda item. For each agenda item, you'll find:
The agenda item title and description
Links to any documents reviewed during the meeting

All notes, decisions, motions, and action items recorded during that agenda item.
Action items keep the same table format used in the summary, appearing in the order they were captured, with notes and other details above and below them. This can be a lot of detail. We found that adding a separating line between agenda items made these detailed notes easier to scan.
When you put it all together, you end up with a report that looks something like this.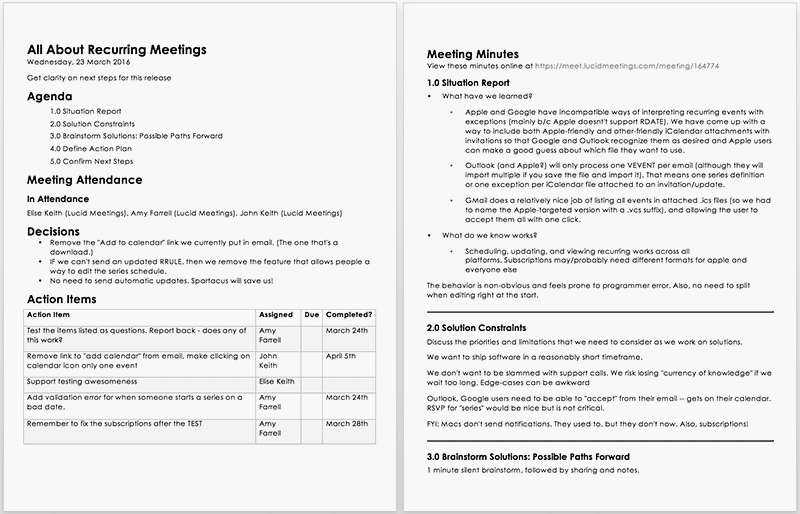 This screenshot shows what the meeting notes template looks like when you first export it from Lucid in Word (docx) format. From there, you can add a logo, company headers and footers, or any other information you might need.
Takeaways
Make meeting records easy to scan.
Context matters. A quick overview of topics and participants at the top covers the basics.
Put decisions and new action items on the first page.
If you use Lucid to manage your meetings and capture notes, then the platform takes care of all of this for you.
Bonus: business meeting notes template!
To make this extra-easy, please feel free to use our meeting notes template. We've put together a simple Word file for easy use in your next meeting. It includes:
Meeting Name, Date and Goal
Agenda Outline
Attendance
Decisions Made
Action Items
The Full Meeting Record
Thanks again to the team at Return Leverage for collaborating with us on this update and sharing their insights here. We love working with our clients to make Lucid better, and look forward to learning more from all of you.