The Latte and Learn Community of Practice Meeting (Fast, Easy, Useful)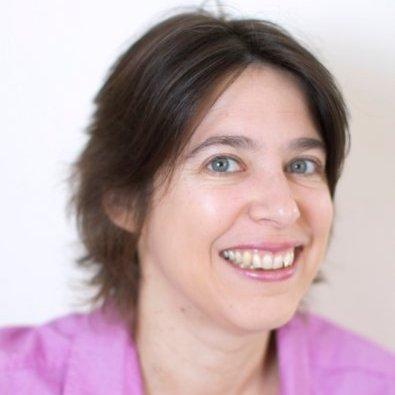 Introducing Pilar Orti
The Lucid Meetings team is delighted to welcome our newest template designer, Pilar Orti. We've been following Pilar's work for some time now. She is both a frequent collaborator of Lisette Sutherland's and the director of Virtual not Distant. While preparing for an interview on Pilar's podcast, we ran across her blog post about the Latte and Learn and invited her to share this process with the Lucid community. We're thrilled that she agreed!
— Team Lucid
What does it mean to create a learning culture within your organization? Depending on your group's size and complexity, a learning focus can take many forms including everything from full-blown certification coursework to the casual exchange of notes in chat. Somewhere in the middle of this range, there is a type of learning that is more focused and intentional than simply sharing notes, but much lighter and easier to pull together than a formalized training session.
The Latte and Learn process falls into this middle range, dedicating just 30 minutes for a team to learn something new from one of their colleagues. Here's how it works.
Agenda
Tune in
First, the team gathers for a quick check-in. Then, when everyone is ready, they move into the…
Learner sharing
Where someone shares a recent experience or insight with the group for up to 15 minutes. Everyone else listens attentively, and jots down private notes about questions or observations that occur to them as the Learner shares.
Questions, observations, and recommendations
Next, the group spends 10 minutes taking turns asking a question or sharing an observation from their notes. Finally…
Summary and follow-up actions
Before they leave, the group reviews any documented results from the session and confirms any follow-up steps that came up.
Of course, the full facilitator's guide Pilar designed has more detail than this. In it, she shares her suggestions for assigning roles to make sure the meeting runs smoothly, options for the Learner sharing segment, and prompts for leading the discussion. She also includes a story of a recent Latte and Learn session with her team to illustrate how the meeting works in practice.
Whenever practical, the Lucid Team likes to test a meeting design before we add the template to the gallery. The Latte and Learn is a very approachable process, so we had no problem finding a time and a good reason to give it a try.
Our Experience Testing the Latte and Learn
Tricia spent 3 days last week at a conference for small businesses who offer services to the US government (which we do) and she came away with all kinds of information about the current state of the State. Acronyms ahoy! Rather than trying to cram snippets of this information into our regular team cadence meetings, we scheduled a dedicated Latte and Learn.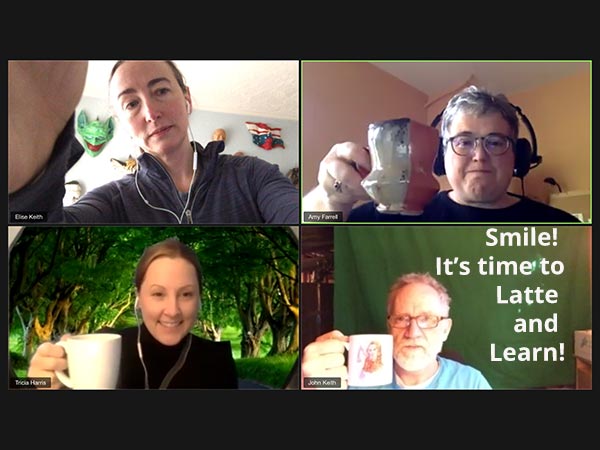 Comparisons to Similar Meetings
The Latte and Learn is what we would call a Community of Practice meeting. These kinds of meetings are all about sharing information with the people interested in learning it. Not as exploratory as an Information Gathering meeting, nor as formal as a Training Session, Community of Practice meetings tend to be voluntary—so you don't have to attend if you aren't interested in the topic—and congenial in nature.
In our previous jobs, we'd all been to similar meetings with in-person teams. These Brown Bags, or Lunch-n-Learn sessions, often lasted a full hour and involved a hefty dose of PowerPoint.
By contrast, the 30-minute Latte and Learn fit more easily into our distributed team's schedule. First, our Learner Tricia wasn't expected to give a presentation, so she didn't need to stress about that. Second, given that we're all at different time zones, we didn't have to try and coordinate around a meal time. Finally, this shorter meeting works better for an online meeting where attention is so easily distracted.
Explicitly Assigning Novel Roles in Advance
Amy facilitated this meeting, and based on Pilar's guidance, assigned team members to take on the different tasks in the meeting. Tricia was our Learner, so she was in charge of sharing what she'd learned. John was our Sketcher, taking responsibility for capturing notes during the meeting.
Now, we always take visible shared notes during our meetings—this is one of the base competencies for running effective business meetings—and we often identify the current presenter and facilitator. These concepts weren't new for us.
The names for these roles were new, though. You want me to be the "Sketcher"? What is that?
In our debrief after the meeting, we discussed the effect these unconventional role names had on the team. It turns out that while John is an expert note taker, he was just unsure enough about what it meant to be a good Latte and Learn Sketcher that he upped his game! We ended up with fabulous notes from this session, partially because the novelty of the Sketcher job description prompted him to put even more attention than usual into doing the job well.
The same was true for the Learner role. Our expectations for what we would hear from a Learner who is sharing were quite different from what we expect when we attend a session with a Presenter who is presenting. Rather than trying to absorb Tricia's newfound knowledge as a handed-down gospel, we felt like we had an opportunity to join her in exploring a new topic.
The 10 Minute Go Around
After the sharing, the facilitator prompts those listening to ask questions or share observations one at a time. This worked really well for us for a few reasons.
First, our team is small and we've known each other a long time. We're quite comfortable veering into long unmanaged discussions, which can be nice sometimes, but isn't necessarily the best use of time. It can also mean that we fail to focus on the most important ideas as we let the conversation ramble. The 10-minute time limit meant that each of us could only ask a single question, and that focusing restriction meant that the questions we asked were all good ones.
Second, while we share pretty well, we definitely have some team members who talk more than others. Using a go-around kept us all aware that we needed to make sure there was time for everyone to ask their question. Those of us who enjoy tangents (guilty!) kept our comments concise to ensure everyone had a chance to participate.
All that said, while this worked well for us, I would add more time for larger teams. I recommend planning at least 2 minutes per attendee for up to 10 attendees. With more than 10 people, I'd ask those participating to raise their hand or form a speaker queue, then limit the discussion to the first 10 questions with each person asking only a single question.
Review notes, yes. Follow-up actions, no.
The final agenda item in the Latte and Learn is reserved for reviewing all the notes and confirming follow-up actions.
We found the review of notes to be incredibly valuable – and easy, because we use Lucid Meetings where the summary is automatically generated for us. During the review, we found a few places where the notes didn't quite match everyone's memory of the discussion, and a few acronyms that needed to be corrected. We used the last few minutes of our Latte and Learn to clarify those points of confusion.
In our case, we have follow-up actions that will come from this session, but we didn't feel like we had enough time to get specific about them. Rather than assigning specific tasks, we all agreed to review the notes and bring any follow-up ideas to our next Team Cadence meeting.
In Summary: The Latte and Learn is Fast, Easy and Useful
It is so easy to get too busy, and to feel like you just don't have time to schedule a learning session with your team. Then it is so easy to think that if you are going to have a learning session, it needs to include a professional presentation or a series of well-crafted learning exercises.
Yet we know from our experience with Action Review meetings (the retrospectives and reviews) that taking time to learn together as a group helps us improve our performance more dramatically than any of our other practices. We know that we can't stay so busy cutting down trees that we never pause to sharpen our saws.
The Latte and Learn gives us a simple way to fit in some focused time for those shared learning opportunities that start with one of us and can spread to the group. Having an easy process like this on hand means we don't have to think too hard to get a useful result. I can see this becoming part of a regular bi-weekly cadence on our teams going forward.
If you're interested in trying it out for yourself, download the facilitator's guide below and give it a whirl! Then, share your experiences in the comments below and add to the virtuous circle of learning that Pilar has started by sharing this guide.
Thank You, Pilar!
Facilitator's Guide
The Meeting Facilitator Guide for Latte and Learning
This 11-page Facilitator's PDF Guide includes:
Meeting setup and role descriptions
Step by step meeting instructions
An example of how the meeting might go