35 Tools for Online Brainstorming and Decision Making in Meetings (2020 update)
Including step-by-step instructions, screenshots, short reviews, and our top recommendations
Last updated April 14, 2020
For this update, we added several new tools and removed a few that are no longer in business. You'll find helpful replies and information from the companies listed here embedded in the full list at the end of the post.
This list was originally published in 2015. Every tool listed below is active as of April 2020, but the descriptions below may be out of date.
Technology companies: contact us if you have updates you'd like to see here.
Technology customers: be sure to visit each tool's website to see the most current information.
You may also want to check out our all-encompassing post on making decisions in meetings — it's a great companion piece to this article.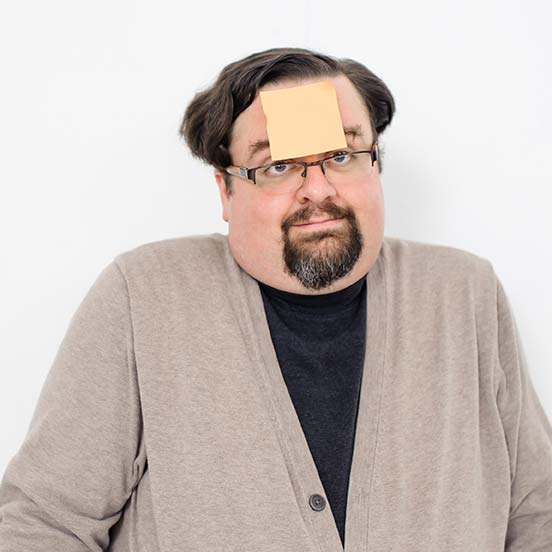 The Strategic Planning Meeting Essentials Pack designed by Anna O'Byrne includes a series of online brainstorming and decision-making exercises. If you run these meetings face-to-face, you'll use sticky notes, markers and a whiteboard for those steps in the process.
But, how do you do the sticky-note thing online? You can find dozens of online sticky note and brainstorming applications, but not all of them work well as part of an online meeting.
We decided to test out all the online sticky-note, brainstorming, and decision-making tools we could find to figure out just which ones work best for quick collaborative sessions during a meeting.
Alert! This is a MEGA POST. To prevent wrist strain brought on by too much scrolling, we offer this table of contents.
The Test Process
Just as there are lots of ways to use real sticky notes, there are lots of ways to use online sticky note tools. Right now, we want to find those that work best as part of a real-time meeting.
First, we scoured the internet for all the online meeting tools we could find that seemed like they might work. We searched for brainstorming tools, tools used in agile retrospectives, "online sticky notes", decision support software, and more. Our original list contained over 50 different products. Then, we began signing up for free trials and running each product through our test use case (described below).
We quickly decided to cut all the simple virtual whiteboards and the mind mapping tools from the list, as they just weren't meant to support the kind of process we need for our meetings. We also cut any product recently acquired by another company, those products that were too buggy for our test, and those that we couldn't figure out. Our final list includes 30+ tools.
Our test was based on a technique known as the KJ-Method. While you may not know it by that name, you've probably been in a meeting that used it, because it's simple and it's really handy any time you need a group to quickly sort through a bunch of ideas.
Our Test Use Case
Starting Question:
What should we look for when planning our next company retreat?

Step 1. Individual brainstorming
Everyone spends 3 silent minutes writing down their ideas. Each idea goes on a separate note.

Step 2. Sharing ideas
People take turns sharing the ideas they've written and posting them to the group space.

Step 3. Grouping or Clustering
Working together, the team makes groups of similar ideas or concepts. Each group then gets named with a single word or short phrase that best captures the core concept underlying the ideas in that group.

Step 4. Voting
The team then votes on which concepts matter most. Each person gets a set number of votes (or "dots") that they can place on the concepts they care most about. The concepts that get the most dots win.
Similar processes ask a team to prioritize each concept against pre-determined criteria, such as importance and urgency, then select the ideas that rank the highest. The strategic planning templates call for ranking ideas like that when planning goals and strategies, so we looked for tools that could support that too.
All of this is easy enough with sticky notes and markers – but a bit tricky online!
The Evaluation Criteria
Obviously the tools we recommend would have to support the process (many don't). Beyond that, we were seeking tools that met as many of these criteria as possible.
1. Easy to use with minimal setup
We're after something a team can use regularly. Something developers can use in retrospectives, executives can use to plan, and sales can use to explore requirements with prospects. This means it has to be super easy to set up a new session.
Also, anything you ask a team to try in front of each other needs to be easy to figure out. If it's confusing, people will get frustrated and embarrassed, and that's no good for your meeting.
2. Easy to invite people
None of the products we explored had support for team audio or video, so we're assuming you'll also be running online meeting software at the same time. There needed to be a way to put a simple link in the meeting that everyone could just click to access the brainstorming tool, or some other really easy way to get everyone connected on-the-fly.
3. Engaging
Techniques like the KJ-Method naturally engage everyone in the meeting. When you're together, it's very obvious if someone isn't enjoying the process or simply isn't participating. We wanted to find something that encouraged this kind of energy and transparency in an online setting.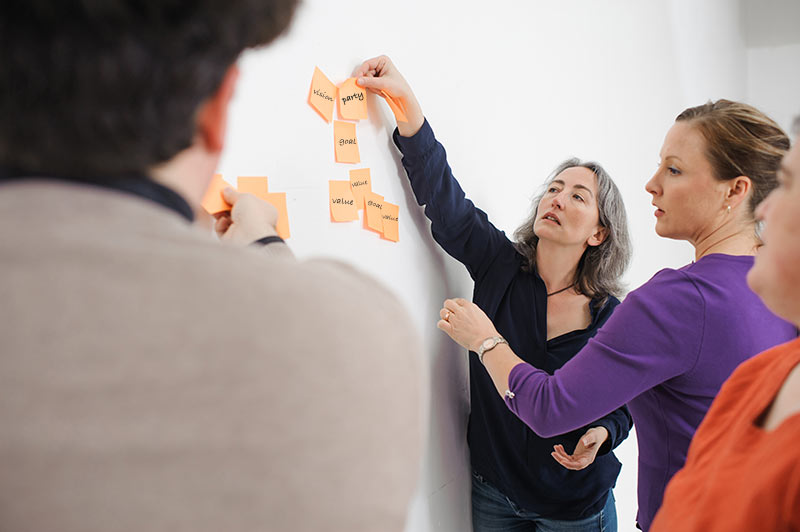 4. A way to export the results; no copy and paste!
When you use real sticky notes, someone has to type up the big ideas afterwards. Right now, we're focused on strategic planning, so we definitely want to put the ideas from our brainstorm to use!
Since you type your ideas into these tools in the first place, it seemed like it should be a no-brainer to get them out again. Shockingly, not so.
5. Scaled to fit the working meeting
Most effective working sessions in the business world involve 3 to 10 people meeting for less than 2 hours. We wanted to find something that worked well at this scale. Some of the products we found were clearly intended for individual use, and others optimize for big conference events with hundreds or even thousands of participants; not what we're after.
6. Inclusive Design & Accessibility
When you brainstorm, you want to get everyone's ideas in the conversation. At Lucid, we strive to make our software work for people with disabilities who may use assistive technologies, and for those joining on phones or other devices. We're far from perfect here, but it's a goal, and one we'd hoped to find shared by any brainstorming tool we'd recommend. Sadly, with one very qualified exception, this was not to be.
---
The Results
Our list currently includes 30+ tools, which we've grouped into several sub-categories.
The categories are:
We'll explore each category in turn, explaining how to run the sample process using those tools and screenshots of our favorites. Then, we'll list our top picks and details about the full list of products we tested at the end of the post.
---
---
---
---
---
---
Our Top Recommended Tools for Online Brainstorming and Decision Making in Meetings
After all that, here are the products that stood out from the crowd. We recommend adding one of these to your online meeting toolkit.
We loved the ease of use, attractive design, clarity of the process, and excellent reporting provided by our top recommendations.
Both GroupMap and Stormz offer a free trial and a monthly subscription option. Occasional users probably won't experience big differences between these platforms. Both are easy to use and generate really useful results. Lucid Meetings customers should consider Stormz, using our integration to ensure the results from your brainstorming session get stored with your other meeting records.
Powernoodle and MeetingSphere are also excellent choices, especially for enterprises and organizations seeking a product that will support a rich virtual facilitation practice over time. Many of the professional facilitators certified by the IAF swear by MeetingSphere.
Brainstorming in a co-edited document worked better than we expected, and starting with a product everyone already knows how to use eradicated the learning curve. These are also the only viable option for those of you with accessibility requirements. Finally, free is a very good price!
That said, these products were harder to use with large groups, as participants quickly get concerned about writing over each other's contributions. Importantly, these products do nothing to support your process, so all of the organization and facilitation is entirely up to you.
Free collaborative editors are our top-pick for small teams or traditional facilitators who need to prioritize easy technology instead of high-volume replies or any decision reporting support.
Recommended with reservations.
These products support our test process and offer a good alternative to development teams. But they lack the flexibility, power and finesse of our top choices, and didn't provide the reports we were looking for.
Recommended for designers and others managing work visually.
Mural and Miro fully support our process as part of a larger, deluxe visual management platform. Neither platform is free nor lightweight, but both can be an excellent choice for teams who benefit from visual collaboration both during and outside of meetings.
In 2020, Mural is our top pick for online design thinking and visual facilitation.
---
The Full List: Details & Screenshots for 30++ Tools
April 2020 NOTE: There were 25 tools on this list when we first published it in 2015. Some have passed on and new ones have emerged. Every tool in the list below still works, but some of these descriptions may be out of date.
To see the latest features offered by each company, visit their website. To see other types of meeting technologies (and our most comprehensive product lists) visit our List of Meeting Tools
In alphabetical order.
---
An invitation: Help improve these recommendations.
Do you work at one of the companies listed here? Let us know if we missed something in our test that people should know. We'll happily add (and clearly label – as you can see above) any short information you send our way that will help people better understand your product's value.
Know of another tool that should be on the list? We'd love to hear about it. You can contribute in the comments below, and we promise we'll update this post as we learn more!
And with that, I'm off to wade through all the "Welcome to your new account" email sitting in my inbox from this test. Happy sticky-noting, everyone!