3 Keys to the Best Project Meetings with Remote Teams
Meetings come 3 general forms: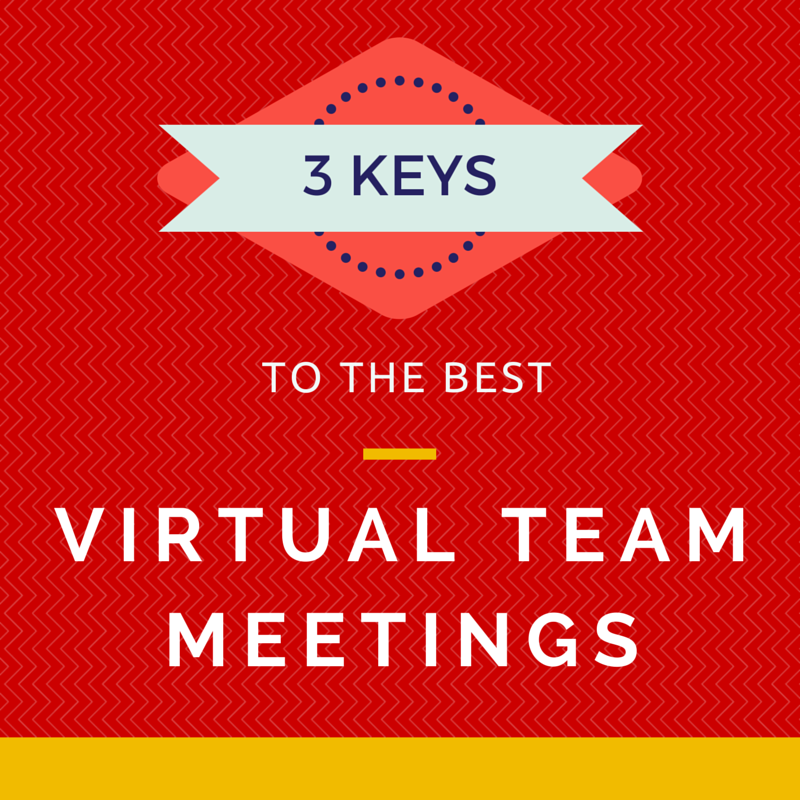 The traditional face-to-face meeting
conference calls, and
video conference calls
There are probably some variations you can think of on these three based on different technology, but this about covers it.
Now, consider you're working with a remote team – you're the project manager and your team is geographically dispersed so you're never co-located…you may never be throughout the entire project engagement.
I've worked several projects like this where I never even met any members of my team face-to-face during the entire project.
Related: 4 ways to run status meetings with your remote team that actually work
How do you keep virtual team meetings cohesive and focused during such a project? How do you make sure everyone is working their respective tasks and you're consistently getting closer to a working end solution? Are meetings important?
Communication is always critical and meetings are probably more important than ever on an engagement like the one I'm describing here.
When you're running meetings where everyone is remote and may never meet face-to-face, there are three things you need to ensure are always happening…
1) Meticulously prepare for every meeting
It's always important to prepare well for every meeting – detailed agenda prepared and delivered to all attendees, status report sent out in advance, revised schedule delivered in advance, budget and resource analysis info sent out in advance, and issues/risks lists sent out in advance.
These items should drive the weekly discussions with your team because you won't see body language and one formal virtual team meeting every week may be your only real communication with some or all of your team.
Make sure this info is as accurate and up to date as possible going into the meeting and get everyone's revisions on the tasks as you review them during the meeting – even if you are using collaborative PM software during the engagement.
Collaborative software is only as good and accurate as the people using it allow it to be. Assume you may still be missing key information that would otherwise fall through the cracks.
2) Make sure there is some light faire in every meeting
Generally, I don't condone much of this. However, when conference call meetings are about the only chance you have – other than emails – to exchange communication with team members and get to know them – then by all means have some light conversation.
Make a point to go around the virtual table and ask everyone how every thing is going and what's new – personally.
Related: 5 Icebreakers for Distributed Team Meetings
Keep it light – and short…"what did you do this past weekend" etc. It's important for team cohesiveness – especially when this is the only chance everyone will get to personally connect with each other.
3) Follow-up with notes and ask for revisions.
Often your virtual team meetings are a prelude to the detailed, formal weekly customer status call…that also includes the team. So you must come out of the team call with all project information as deadly accurate as possible, especially when you're managing a remote team.
Send out notes from the weekly team meeting to all attendees and ask for revisions within 'x' amount of time – usually 24 hours.
Not everyone hears everything the same and you may have mis-interpreted a team member's update on task progress, etc. Now is your chance to make sure you have it correct. Once all revisions are in, send out a new version of the notes.
Related: How to take notes in meetings
Summary
I've managed projects almost entirely remotely for the past 9 years – with great success. And throughout all that time I've stuck to these three practices – among others – when handling weekly virtual team meetings.
Some projects require more meetings than others – some even require several team meetings per week. But these principles still remain the same.
Follow these and you are very likely going to have the same success I've had managing my remote project staff. They keep the team up to date, focused and accountable for their tasks and they keep the team working cohesively together even though they may never meet face-to-face.
Thoughts? Do you often manage remote teams? What other things would you add to this as "must do's" to keep your virtual team members engaged and focused?