Accessing the Wisdom of Your Group
Once in a while, a new manager will come to an organization and do something that is both bold and disruptive. First, they will ask the group to set aside their PowerPoint slides and their usual meeting topics for an hour. Next, they will open up the conversation in a simple, elegant and powerful way.
"I want to know what problems you are dealing with in your units. I want to know what you are losing sleep over. I want to know what you are worried about.

We've got an hour and so let's just relax and talk. Who wants to start?"
Why is this bold?
It seems we've lost our ability to utilize the wisdom of our groups and our colleagues. We tend to worry more about what others think of us than being open, honest and vulnerable. Our desire for comfort shuts down our intentions to get better.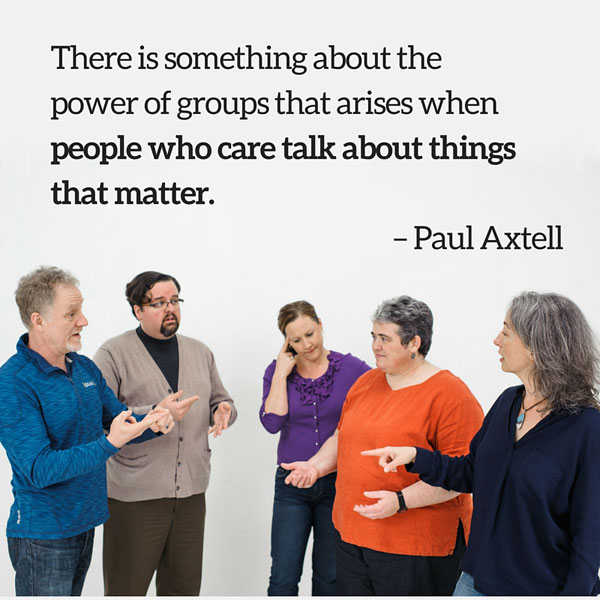 Yet, there is something about the power of groups that arises when people who care talk about things that matter. We end up feeling like we belong to a group of friends. We erase this sense of being alone. We develop a community of understanding. We get thinking that comes from the group conversation rather than from an individual. We learn from the experience of others. And the sense of connection as a group builds.
One of the valuable conversations that can be included on any group's agenda is working together on an individual member's dilemma, problem, idea, or project. Gaining access to the experience and thinking of colleagues can add clarity and options to a situation. In addition, these conversations strengthen the sense of community within a group.
A Process for Accessing the Wisdom of Your Group
The template that was just added to the Lucid gallery offers a very simple design for these conversations. In brief, the process works like this.
One group member asks colleagues for help thinking through a troubling situation, or with developing an idea. After briefly introducing the situation and answering some clarifying questions, the person bringing the situation to the group sits back and simply listens as the rest of the group talk through it.
Here is a story that is a variation on that design. The key element is allowing a group to discuss an idea with others just "listening in".
Gwil Evans of Oregon State University and I have worked on the design of many large meetings and retreats. We share an expression — the best part of any retreat is "driving out of the parking lot."
Here's a note I received from Gwil about an innovative design that allows a group to "eavesdrop" on a small-group conversation before opening the discussion to the full group:
Thought of you when I was driving out of the parking lot after a successful Administrators' Workshop that spanned parts of three days. As design goes, most of the sessions were a fairly traditional exchange of information.

My favorite, however, was set up as a small round table up on the riser, with tablecloth and unobtrusive microphones. At the table, we convened two of our department heads, both of whom are considering adopting a 'school' model for organizing a program in their spheres of responsibility. They were joined by two other faculty, both of whom now already head schools. We set up the situation as an 'over coffee' conversation among the four of them, with the rest of us in the room 'eavesdropping' on their conversation about schools and what it takes to establish and operate them.

The result was a kind of free-flowing exchange of ideas, pretty much what one would expect in a coffee shop. And content rich. Included occasional good humor (laughing at oneself, etc.). Then, after about thirty minutes, the rest of us 'dropped in' on the conversation and introduced our questions and ideas. Afterward, I received many independent thanks for the setup and approval for the design. Nice reward!
This is a creative, reflective approach that has colleagues sharing views versus engaging in problem solving in a typical back-and-forth conversation.
Bringing this Process to Your Team
The story above came from a multi-day workshop involving many people, but the basics work just as well with smaller teams. The template outlines how to use this process (either face-to-face or online) in less than an hour.
View the template details and share your reactions. What was your team's experience with this approach?
The Meeting Guide for Accessing the Wisdom of Your Group
This 8-page Facilitator's PDF Guide includes:
An Introduction to the Process
Sample Agenda with Recommended Timing
Step by Step Meeting Instructions
Links to Additional Resources