Book Review: Meet Like You Mean It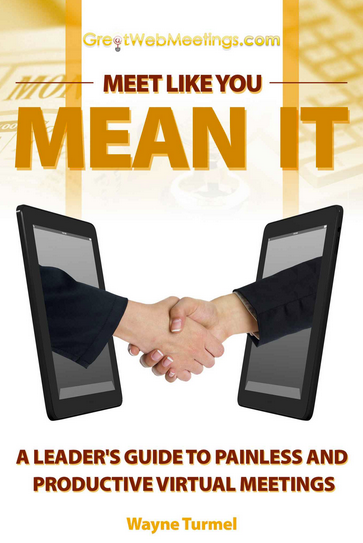 I bought this book because I've been following Wayne Turmel's work on collaboration and virtual meetings for several years.
I was looking for a single reference that provided specific, actionable guidance for leading better VIRTUAL MEETINGS.
This book not only achieves that goal, but exceeded my expectations by going beyond technology and focusing on how to prepare and run great meetings – whether virtual, in-person, or some combination of both.
If you're looking for information about the current state of virtual meeting technology, then you'll appreciate the first half of the book, which provides a thorough discussion of the capabilities and tools available from all the top tier meeting and web conferencing services. These sections of the book include a lot of sage advice about how to configure and use the technology in a way that engages your meeting participants.
In the second half of the book you'll find specific guidance for how to prepare and run virtual meetings that engage people and get results. Learn exactly how to prepare your meeting agenda, with detailed advice about what should be included and how it should be presented to participants. Then see how to run through your agenda using the virtual meeting technology discussed in the first half of the book. Wayne concludes this part of the book with a section of techniques designed to achieve specific meeting goals, from root cause analysis, to brainstorming ideas, consensus building, and more.
Read the book! It's packed with advice and, with more than thirty Best Practices callouts, you'll be able to confidently lead your next virtual meeting knowing you're doing it right.
Link: Meet Like You Mean It: A Leader's Guide To Painless And Productive Virtual Meetings