Create a Team Agreement to Avoid Misunderstandings on Your Remote Team
New Meeting Agenda Template!
Here at Lucid, we're fans of Lisette Sutherland's work with remote teams on CollaborationSuperpowers.com, Happy Melly, and her blog at lisettesutherland.com. When we saw her post on creating a working agreement for remote teams, we thought it was a great idea that would make for a really useful meeting template.
Happily, Lisette agreed to share her technique with us! Read on for her quick overview, and you'll find links to the template at the end.
---
On remote teams, there are plenty of opportunities for misunderstandings. We can solve some of the basic miscommunications through the process of creating a team agreement: a basic set of expectations for how you want to work together as a team. It's also a great way to learn about each others working styles.
The ICC Worfkflow
Phil Montero from The Anywhere Office has created a great process for getting the discussion started. He calls it the "ICC workflow", which stands for Information, Communication, and Collaboration.
Start by asking your team these questions:
Information: What kinds of information do you need to share? Is there a centralized task system? A shared calendar? Do you need access to a database? An intranet?
Communication: How will you communicate with each other? Some people might prefer having live discussions in-person, over the phone or via video chats, and others might prefer email or instant messaging. What are your expected response times? Do you need to set core hours?
Collaboration: How will you know what tasks are being worked on? How will you give each other feedback?
Creating the Agreement
My favorite way of taking a remote team through the ICC workflow is by using an online sticky note tool. Each team member posts their answers to the questions on a sticky note (one answer per sticky note).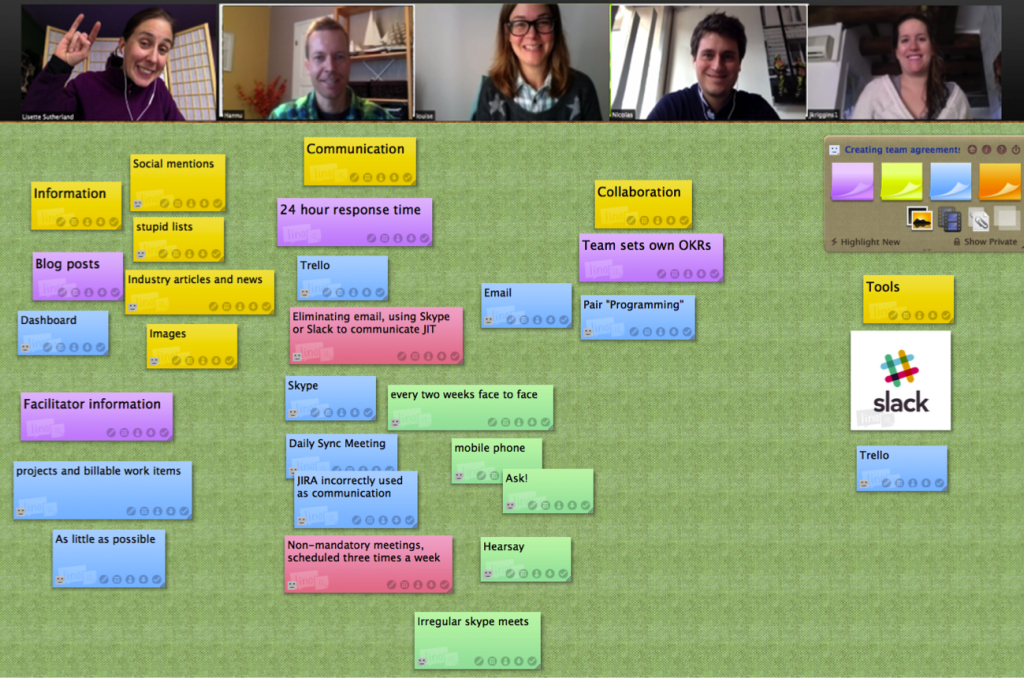 Once everyone has finished, the discussions can start! Categorize the answers so that similar items are grouped together. Then talk through everyone's answers and document the items that everyone agrees on. For documentation, use whatever is useful for your team: a Google Doc, a wiki, a Word document. Anything will do as long as it's easily accessible by everyone on the team.
There will also be some items that not everyone agrees on. I like to document these things in the team agreement as well so that the team knows where the points of disagreement are. The most important thing is not that everything gets documented, but rather, it's the discussion that happens around these items.
---
Improve Your Skills with Meeting School
Keep the Agreement Fresh
The team agreement is meant to be a "living document". This means that it should be updated regularly. Remember, every time someone joins or leaves a team, it's a new team. However, that doesn't mean the team agreement needs to be updated every time someone joins or leaves. In fact, having a team agreement in place can help new people step into the team norms, and then make suggestions for improvements during the next review session.
Whether you're starting with a fresh team on a new project, or whether you've been working together for a long time, creating a team agreement helps form the glue that binds your team together.
Bonus! The Team Agreement Meeting Template
I've put together a template for the Lucid Meetings template gallery that will help you plan and run this meeting on your own. Anyone can download a free step-by-step copy of the agenda process to reference when using your favorite sticky note app.
Or, if you have a free Lucid Meetings account, you'll find everything you need to create a new agreement with your team in the built-in template.