How To Increase Participation When You've Got Too Many People In Your Online Meeting
"The more, the merrier in meetings. You can now have up to 250 participants! … Just right for that quarterly all-hands get-together."
The announcement from a leading video conference system supplier made my heart sink.
NO! That's NOT just right.
Thanks to the magic of videoconferencing, you can instantly talk at all your people, all over the world – and of course that's useful in some circumstances.
But it's not a get-together. It's not bringing anyone together.
What It Really Means to Bring People Together
Here's the thing. When we get together in the same physical space, there's usually lots more going on than "being talked at."
We feel involved in something special. This is an "event", where participants can see and hear each other
We connect through the informal conversations that happen between the formal moments and as we arrive in and leave the room.
The speaker can see and hear how their message is being received, and respond in the moment.
Depending on the context, we can engage in shared activities: facilitated exercises, games or discussions, or perhaps we'll eat or drink together
The conversations don't suddenly stop when the event ends: we keep talking about the topic when we return to our desks.
These days the host of any business event – whether it's a quarterly all-hands meeting, a monthly networking meetup, a conference or a more formal training session – knows that the quality of the presentation(s) contributes only one part to the formula for success.
Attendees want more. They want to meet and talk to interesting people, contribute to discussions, and get to grips with new ideas and how they might be applied in their own specific circumstances.
And they still want those things when the event is online.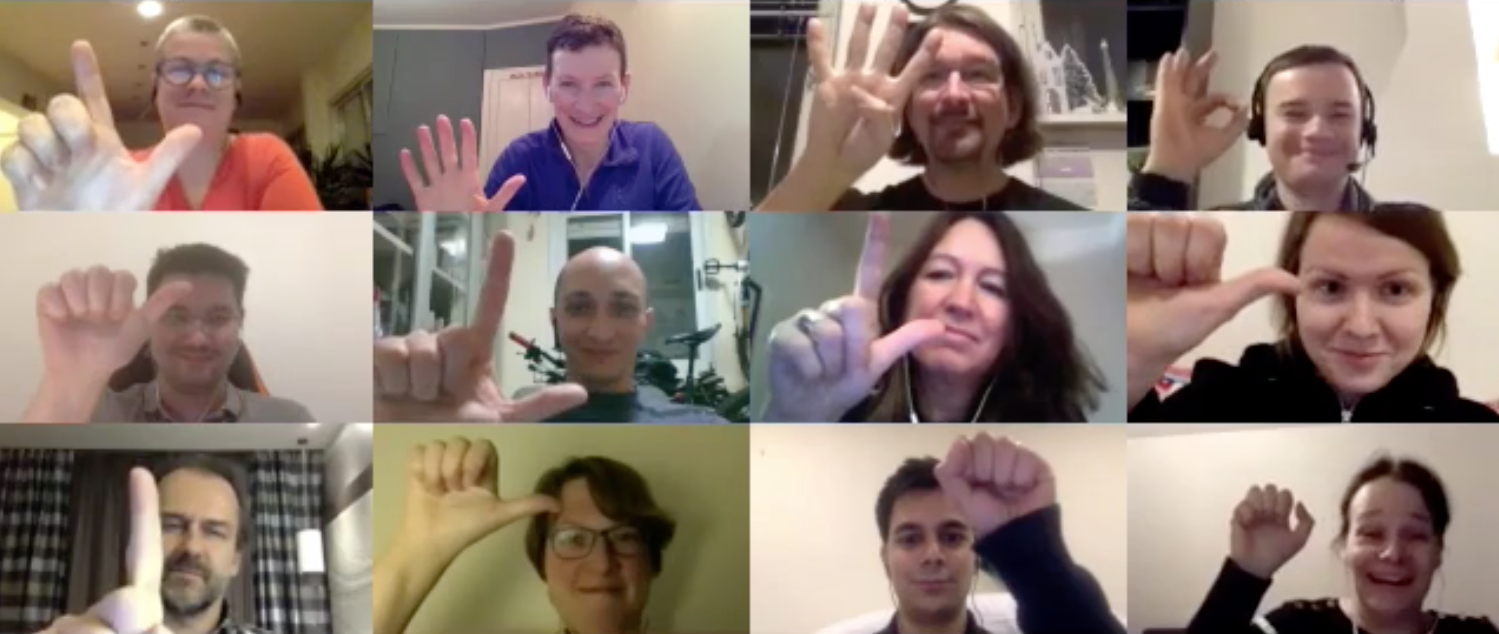 How can you, as the host, supply them? It doesn't have to be complicated.
How to Bring People Together When Meeting Online
Last year, I worked with the RSA Fellowship to take some of their networking meetups online. Fellows of this UK-based social change charity (known for the RSA Animate videos) love to connect and talk to each other about the topics that interest them. But when things moved online, the "being talked at" formula dominated.
Here's what I suggested:
Make it feel like an "event" by ensuring that everyone can see and hear everyone who's participating, not just the speaker.
Ensure that informal conversations happen by:

Opening the video conference room at least ten minutes before the official start time, and actively using this time for meet-and-greet as well as technical set-up.
Allocating at least 20 percent of the meeting time to "breakout" conversations or activities in twos or threes.
Leaving the room open after the official close time, so informal conversations can continue.
Providing a dedicated text-based-chat space for follow-up conversations (in Slack, Microsoft Teams or another chat tool for example).
What needs to happen to get those things in place for your events?
If my recommendations are hitting the technical limits of your video conference system, it might be time to change! These days, really good video conference systems, with the ability to set up breakout rooms, don't have to be expensive. (We all love Zoom.)
But if that's outside your control, why not improvise?
Get Creative With the Tech You Have
For example, when I did some online training with a large financial institution recently we used five separate video-calls as breakout rooms, before regrouping in the main call at a given time. We used a dedicated channel within the company's text-based-chat system to stay connected before, during and after the training. The participants loved it – and it sparked new conversations from London to New York and beyond.
Right now, I hope that my recommendations are hitting a different limit – the number of people you feel comfortable to host at an event.
The thing is that large-group facilitation, creating participative events with scores, hundreds or thousands of participants, is a specialist skill. And if you wouldn't be willing to play host to 250-person all-hands event "in real life", don't expect to be magically able to do it online!
In other words, more isn't merrier. Limit the number of people you invite to your online event to the number who can actively participate.
Then, you'll create events that people enjoy, talk about and recommend to others. Let's have fun with it!
Interested in more tips and action guides for running successful online events? Take a look at our new online course.