How a Completely Distributed Accounting Firm Does Strategic Planning, Virtually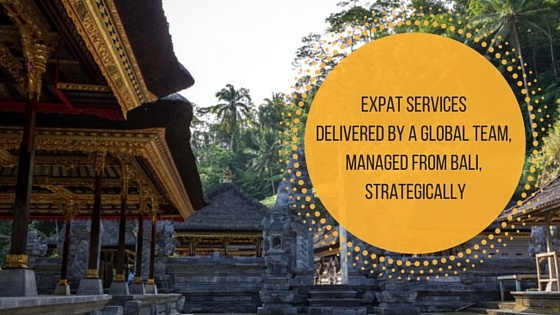 For the virtual strategic planning series I interviewed another expat entrepreneur living in nearly the same time zone. Carrie McKeegan and her husband, David, run their distributed business from Bali. Their company not only works virtually – with a global team – but exists to solve a pain point inherent in working abroad: tax complications.
The McKeegans came to appreciate the expense and challenge of expat taxes while working as Americans in the UK. "While they both loved being American and living abroad, they were fed up with the process of filing US expat taxes." In 2008 Carrie and David founded Greenback Expat Tax Services.
From the start, the team was virtual. Says Carrie, "It's fairly common now, but it was really rare then. In 2008, people thought it was crazy."
"Our hypothesis when we started the business was that our clients, by definition, would be all over the world. There wasn't a big concentration of accountants in any one city who were experts in expat tax preparation. So, being distributed allowed us to hire really well; to bring in people who were amazing at expat taxes, wherever they happened to live."
Today, they have a team of nearly 40, with an astonishing geographic spread: a number in the US, but also in Costa Rica, Sydney, Zurich, Tanzania, Hong Kong…many of whom are themselves American expats.
What's interesting is, the Greenback team manages to plan virtually – every year. I interviewed Carrie to find out how. Read on to discover their process, lessons learned, and Carrie's thoughts on why vision, mission and values make all the difference for distributed teams.
How has your strategic planning evolved over time?
"When we first started the business, it was definitely a smaller management team; it was very much my husband and business partner and I doing all of the strategic planning. Now we have six or seven people in the core management team – by which I mean leading finance, marketing and operations.
As we've evolved we've found that the way to do this strategic thinking without all having to be in the same room is by making sure the mission and the vision is really, really clear. That, for us, has been the pivotal point allowing us to work in different locations and still have the same end point in mind, and have that come together naturally."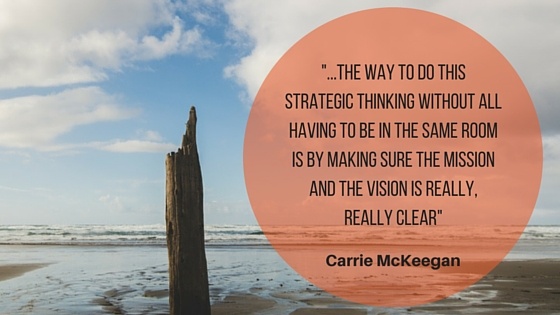 What does your strategic planning process look like today?
"Because we're so seasonal – because the tax business by definition is so seasonal – basically we do a tremendous amount of planning upfront. We do everything that you can humanly do between mid-October and mid-January to set ourselves up for the tax year.
The accountants are very available to us between about October and January. During planning, we tap into them for ideas, advice and insight, for example on the customer experience or on any acquisition channels.
When you get into about mid-January to mid-October, they are so focused on working with customers and returns that if you try to implement a new process or system, or if you try to consult with them for ideas, it's very difficult. They're so busy. During the tax season we purposely stop ourselves from making any big changes.
This upfront planning allows us to leave some flex in our time as we execute against the plan; it lets us really act on what's happening as new ideas come up, so we can capitalize on opportunities and risks."
Do you schedule your strategic planning for every autumn then?
"Each month we have functional business reviews that outline where we are relative to the overall goals for the year, from the point of view of each department.
Of course, we have more frequent reporting that goes to KPIs, but the functional review delves deep.
We adjust the strategic plan based on what we're seeing. It's not a static plan. There are goals, but how you get to those goals might vary based on the results you're seeing to date.
But when it comes to strategic planning for customer experience and marketing and things like that, we generally kick it off around mid-September to be ready to act on our plans in that fourth quarter of the year."
Is there a strategic planning model that you follow?
"We start with looking at what went well, and what didn't go so well throughout the year, and we really challenge ourselves to do a deep dive on that. Even though we review monthly, we really evaluate overall the plans that we've had and how well those went before we start solutioning.
A lot of our process is just really critical thinking. As we do that digging, we identify areas that are opportunities or areas where we want to double-down our efforts in the following year.
The team will come prepared with all the data and all of the insights from their respective areas, for the prior 12 months. At the same time, David and I are looking at what we want those ambitions to be for the following year. We'll share what that high-level vision is. For example, this year it's all about improving the CRM system.
When I talk about 'vision' in strategic planning, I'm talking about the internal goals and that alignment around how we do things and why we do them.
So, we set that tone in terms of what we want to do and where we want people to be roughly aligned. Then, each of the teams comes prepared with the background and some high-level ideas of what they want to be focusing on in the coming year.
We meet with each of those teams, give them some feedback, chat with them on ideas, and then they plan the work in more granular detail. We then wrap that into one plan come January."
What are your main outcomes from this process?
"We have goals for the year, and we try to keep them fairly tight. We try to have a couple of key themes that we can revolve the rest of our goals around. Then we have KPIs that measure how well we're doing against those goals. And, finally, we create plans that serve as a road map."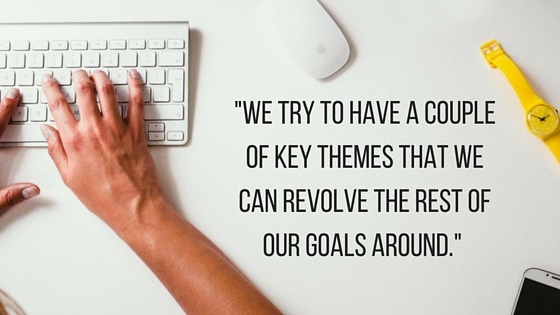 Are there any special tools that you use to make strategic planning more effective?
"Not specifically for strategic planning, but we use Podio day to day. It's sort of a virtual office where you can have chat, project management and create workspaces. We always have a strategic planning workspace to organize thinking.
We also use Lucid Charts to map out any process-related things. It's not specific to strategic planning, but it does facilitate creative thinking and planning."
Do you lead the sessions, or do you delegate that role?
"It's more of a process than sessions. As we're doing the planning there are definitely times where we'll all jump on the phone, but we only get on the phone when we need to and want to.
I'll kick off the process, and often that will be a phone call to set the scene. But then there are different people having conversations – consulting with others for ideas and input – as they devise the plans that they're responsible for.
It's not really like when I worked at big companies previously: you would do these giant strategic planning sit-downs, where you'd stay in a room for a week and come out of it with a plan.
It's the same idea, in that it's pretty intensive and it requires us to throw everything on the table and come out of it with a plan. But it's not like a series of long meetings."
Do you have any comments on doing strategic planning on calls, versus in-person? Is there any challenge with keeping up engagement?
"Because we're a small team, in terms of the people doing the planning, we don't really have a challenge with keeping people engaged.
And we try not to have a meetings culture as a whole. When people do get on the phone to have a meeting, they're really there and present in that moment.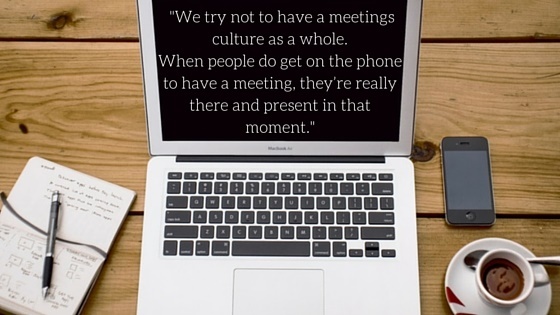 The real challenge is that we're in all different time zones, so scheduling the meetings is difficult. If I had to state the biggest frustration, it's that you can't always hop on the phone with someone when you're working on something.
Usually you have to schedule a call and most likely it will be a couple of days later, and it might be at six in the morning my time and ten o'clock at night in Argentina.
But to your point about keeping people engaged, you never have frivolous meetings. You only have meetings when it's important. So, everyone knows that they need to be engaged and make that time work."
What are your thoughts on vision, mission and values for your team culture and decision making?
"For us that's been really, really important. It ties in with company culture and this is an area that I'm fairly passionate about.
I think that culture is there whether you know it's there or not. You can let it grow on its own and be whatever it turns out to be, or you can be very intentional about it. You can be very deliberate about creating the values that you want to see. It creates the ability for people to make decisions and go in the right direction without the owners being involved in every decision.
The hardest part is making sure that creating the mission, vision and values is done in a way that's digestible, so it doesn't feel like corporate-speak. I think that's where people get really lost and frustrated.
There's one small tactic that David and I used to make it feel real. We wrote a magazine-style article as a way of communicating to the team what we wanted the company to look and feel like in a few years, so that everyone was on the same page as we started the strategic planning process. We wrote it as if someone were talking about us three years from now. It was really aspirational, focusing on what impact the business had on people and on the team over time. And we did it interview-style, with pictures and with quotes to make it really fun to read.
People don't like reading paragraphs of text that describe a company, but they love stories; they love hearing stories and identifying with stories. So, I think the more that you can align people behind what the company stands for and turn that into something that feels very real and very personal, the more success you're going to have."
What have been some lessons learned on virtual strat planning?
"It's important to be very clear as to who is responsible for what piece of the plan. You really want to be extraordinarily collaborative, but there's a risk it can be unproductive.
It hasn't happened here, but I have experienced in other companies instances where you're trying so hard to think 'outside the box' that people forget that they have an expertise. It's important to stay true to that. Be very clear as to who is the subject matter expert, and who provides input.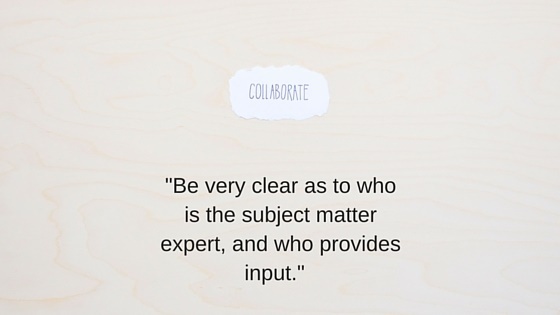 My biggest lesson is to make sure the planning is time-bound: as in, 'Here's when we're kicking off the process, and here's when we're ending the process, and here are the milestones that sit within that.' You want to make sure that people have enough time to really think things over, but not so much time that it becomes debilitating."
What are your thoughts on planning virtually, versus in-person?
"We had a little marketing team summit where we all flew into New York and met in person.
We actually tried to do planning around one project, and I felt like the time we spent would have been more productive had we been doing it from our virtual offices. I didn't see it adding a tremendous amount of value.
The best time we spent in-person was in getting to know each other."
What We Can Learn from Greenback
I made a careless assumption about Carrie, and it wasn't until near the end of our talk that my mistake became clear.
I assumed she was an accountant running an accounting firm, and this was a bit baffling because Carrie obviously has deep management expertise and happens to be a fantastic writer (co-writer, to be precise: see Carrie and David's articles on Entrepreneur.com). It seemed a little unusual for one person to have such breadth of knowledge.
Later, I learned that no, entrepreneurship is her thing. Carrie and David started the business not to market their own skills, but to solve a problem. It's the ideal approach to entrepreneurship.
Strategic planning requires a similar thought process: it's about getting very clear-eyed to identify gaps, and then deciding how to close those gaps.
Here's what I loved about the McKeegans' approach:
They stress critical thinking and objectivity in evaluating past performance.
A lot of ownership for strategy is delegated to the functional leads (i.e. operations, finance, marketing).
The McKeegans rely on strong vision, mission and values to create alignment, so that they as owners don't have to get involved in every decision.
They're realistic and decisive, choosing themes to focus on annually; Carrie talked about the 'one thing' approach.
They keep the plan alive with in-depth monthly reviews.
They leave room to adjust and respond to real-time opportunities and risks.
There's a lot to learn from the Greenback example, and it's inspiring that
they do all of this virtually. It leaves them free to choose where in the world they want to work from.
I had a twinge of jealousy when I asked Carrie about their long-term plans for living in Bali. It's open-ended for the McKeegans, whereas we will be heading moving back from Australia to Canada in the depths of winter.
Interested in virtual strategic planning? Check out The Complete Toolkit for Strategic Planning with Remote Teams.